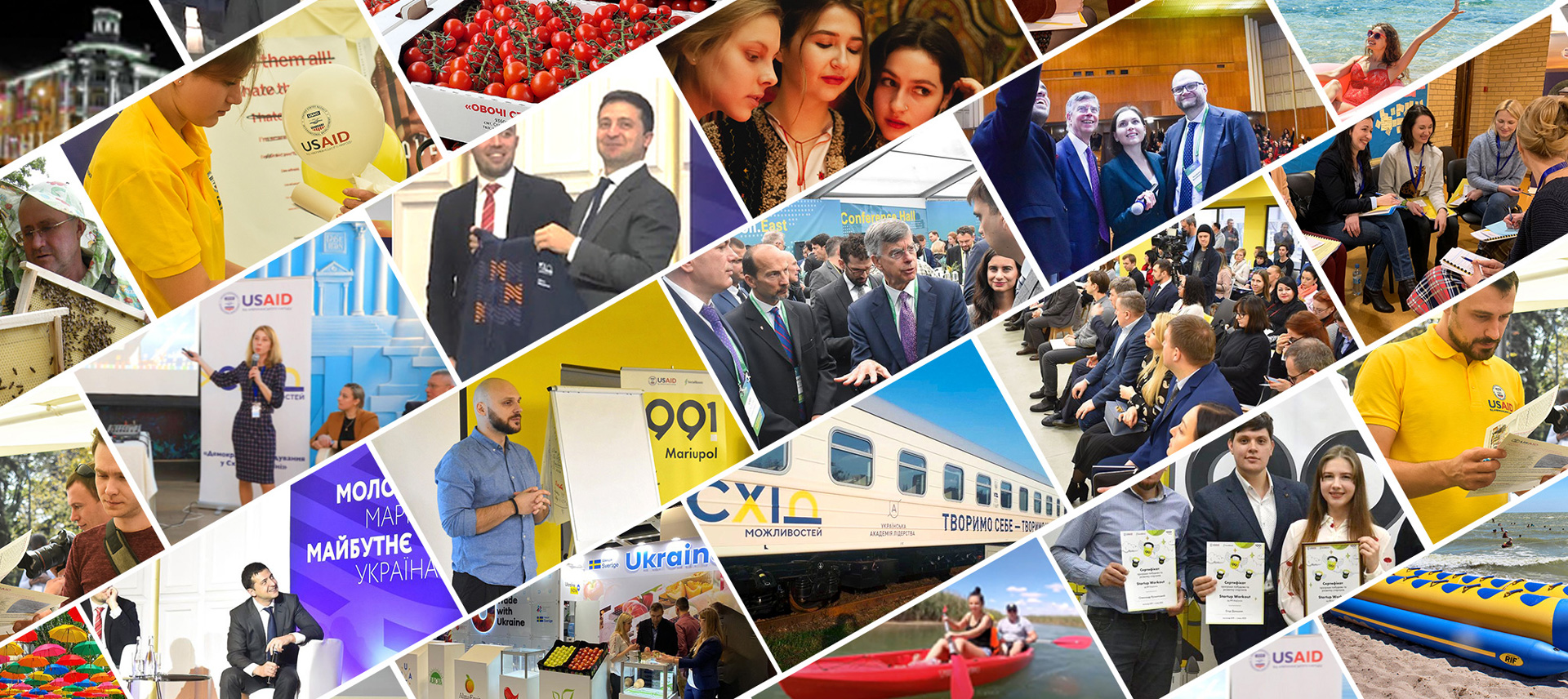 The USAID Economic Resilience Activity (ERA) is a six-year program (2018-2024) implemented by DAI Global LLC, aimed at improving the economy of eastern Ukraine in response to Russia's aggression. ERA's target geographic regions include the Ukrainian Government-controlled areas of Donetsk and Luhansk Oblasts, and selected cities in the Azov Sea region.
The Russia-backed conflict in eastern Ukraine and Russia's hybrid war in the Azov Sea have upended the economy of the region, cut the region off from important markets, catalyzed the decline of traditional industries, displaced 1.5 million from their homes and jobs, and left millions of Ukrainians economically stressed.
Not only eastern Ukraine bears the brunt of the problems caused by the Russia-backed conflict, this region, as the survey data show, has the lowest level of support for Ukraine's Euro-Atlantic trajectory, in part due to low economic security and low trust in government institutions.
To address these challenges, the USAID Economic Resilience Activity promotes the development of a resilient, inclusive, and growth-oriented economy in eastern Ukraine. ERA empowers eastern Ukrainians to establish and grow micro, small, and medium enterprises (MSMEs) in promising economic sectors, to innovate, and to expand to new markets across Ukraine, the European Union (EU), and other new international markets. ERA emphasizes the inclusion of internally displaced persons (IDPs), women, young adults, Roma, veterans, the elderly, and other vulnerable groups among its beneficiaries to ensure that they also share in the region's economic success. ERA is also working with local and regional stakeholders to define a viable vision for the future of the region's economy.
The USAID Economic Resilience Activity's work is centered on three pillars:
Inclusion: building the capabilities of vulnerable populations to capitalize on entrepreneurial and MSME economic opportunities;
Growth: helping micro, small, and medium businesses innovate, invest, and expand markets; and
Transformation: working with coalitions and leaders to articulate a vision for the future and put in place a modern, diverse, and SME-friendly economy.
INCLUSION
FOCUS ON THE MOST VULNERABLE
The conflict is depriving many people living in eastern Ukraine of a viable economic future. Because a stable and resilient economy is one that gives opportunities to its most disadvantaged citizens, ERA specifically targets the inclusion of vulnerable populations by:
Increasing Capabilities:
working with local partners to provide training and mentoring that builds the skills and capabilities of youth

and vulnerable populations to successfully participate in economic opportunities;

providing grants to non-governmental organizations (NGOs) that support vulnerable populations' engagement

in the economy.
Increasing Opportunities:
supporting MSMEs that employ vulnerable persons to expand their operations;

connecting the unemployed and underemployed with internships, jobs, mentors, and other informational support and practical experience;

building local information systems (such as through career development centers) so that people know about entrepreneurial opportunities in target sectors;

aligning curricula with the demands of employers and enabling local educational and vocational institutions, including so-called "displaced" universities (i. e. those institutions forced to relocate due to the conflict) to provide practical skills development training for unemployed and underemployed youth in trades that are in high demand locally.
HELPING MICRO, SMALL, AND MEDIUM ENTERPRISES TO GROW
TARGET SECTORS
ERA focuses on working with businesses in six target sectors, each of which has the potential to grow and create new economic opportunities for MSMEs. These sectors are: alternative energy, honey, information technology, innovation for manufacturing,  tourism, and vegetables.

Biofuels have the potential to both provide income and jobs in remote rural areas and reduce the region's energy dependence on Russian gas and coal. ERA supports the use of agricultural and forestry waste for heat production in collaboration with other international donors.

Developing the honey sector in eastern Ukraine will create tremendous export opportunities for eastern Ukraine's numerous beekeepers, many of whom are economically vulnerable, elderly, or IDPs. ERA supports technology transfer through roundtables and study tours, strengthens agricultural technical schools and extension services, and improves coordination between beekeepers and farmers.

ERA initiates partnerships for curriculum development and training at universities and private training programs and will increase access to English language courses. ERA also fosters the creation of IT associations or clusters in Kramatorsk and Mariupol, and will assess the potential for an IT training center that builds on prior USAID investments.

ERA helps to innovate small and medium enterprises in the region strengthen their business skills, to promote their products in new markets, and to gain access to finance.

The tourism industry has enormous potential to increase employment and income-generating opportunities for Ukrainians living in the Azov Sea region, especially in the coastal city of Berdiansk (Zaporizhzhia Oblast), which hosts around 1.2 million visitors annually. ERA works with businesses in the region to overcome negative perceptions and capitalize on previously untapped cultural and natural heritage touristic resources.

Eastern Ukraine is home to some of the country's most talented farmers, but the conflict has cut them off from their traditional markets. ERA fosters new partnerships between smallholder farmers and large commercial processors, helps conflict-affected farmers gain access to new markets, provides intensive agronomic and marketing coaching as a means of securing new buyers, and supports equipment and infrastructure improvements at regional farmers' markets.
TRANSFORMING THE ECONOMY
DRIVING VISION
For the economy of eastern Ukraine to break from the traditional industries that have defined the region, it needs a defined vision for what the future of the economy looks like and a plan for achieving it. Looking to cities like Pittsburgh that experienced a "rust belt rebound" as a model, ERA works with regional, city, community, university, and private sector actors to foster an inclusive vision, based on market trends for products that can be produced locally and attract investments for transforming the economy.
ERA strives to create a "buzz" in the region in order to help the region attract the investment, skilled workers, and youth needed to drive economic transformation.
ACCELERATING INVESTMENTS IN INFRASTRUCTURE
The conflict has left eastern Ukraine's infrastructure badly in need of repair, investment, and reorientation.
ERA works with regional stakeholders to mobilize the investment needed to address the region's infrastructure needs.
IMPLEMENTING PARTNERS: DAI Global LLC, Danish Refugee Council, CDM Engineering Ukraine, FHI 360
U.S. INVESTMENT: $71.8 million