With the assistance of USAID Economic Resilience Activity (ERA), 10 beekeeping equipment manufacturers, beekeepers, and representatives of the Ukrainian Beekeepers Union participated in the international ApiExpo exhibition held as part of the 48th Apimondia World Congress.
The event ran from 4–8  September in Santiago, Chile.
The delegation included representatives of 10 export-oriented Ukrainian micro, small and medium-sized enterprises – companies processing honey and other beekeeping products, manufacturers of beekeeping equipment and suppliers of IT services for beekeepers. The delegation also included two representatives of the governing bodies of the Union of Beekeepers of Ukraine and two USAID ERA specialists.
On the first day of the exhibition, Temporary Charge d'Affaires of Ukraine to the Republic of Chile Vladyslav Bohorad attended the event. He promised to assist exhibitors and representatives of the honey sector to help establish business partnerships.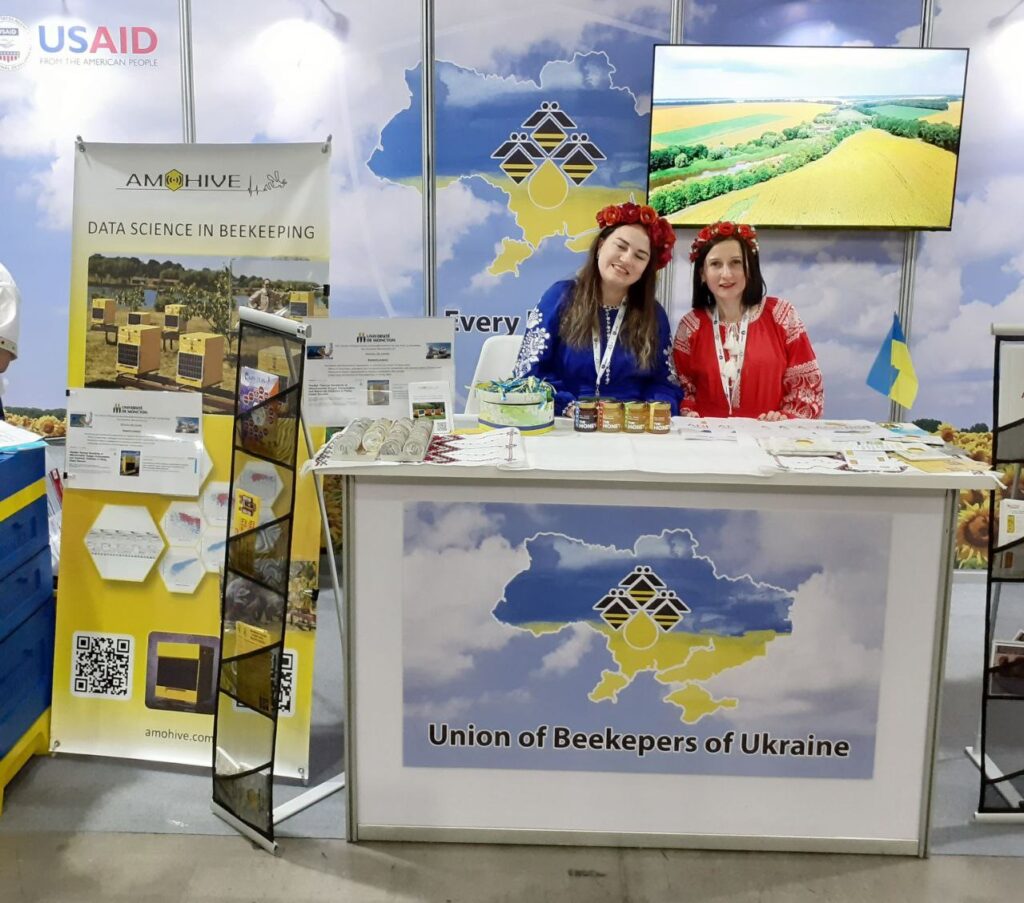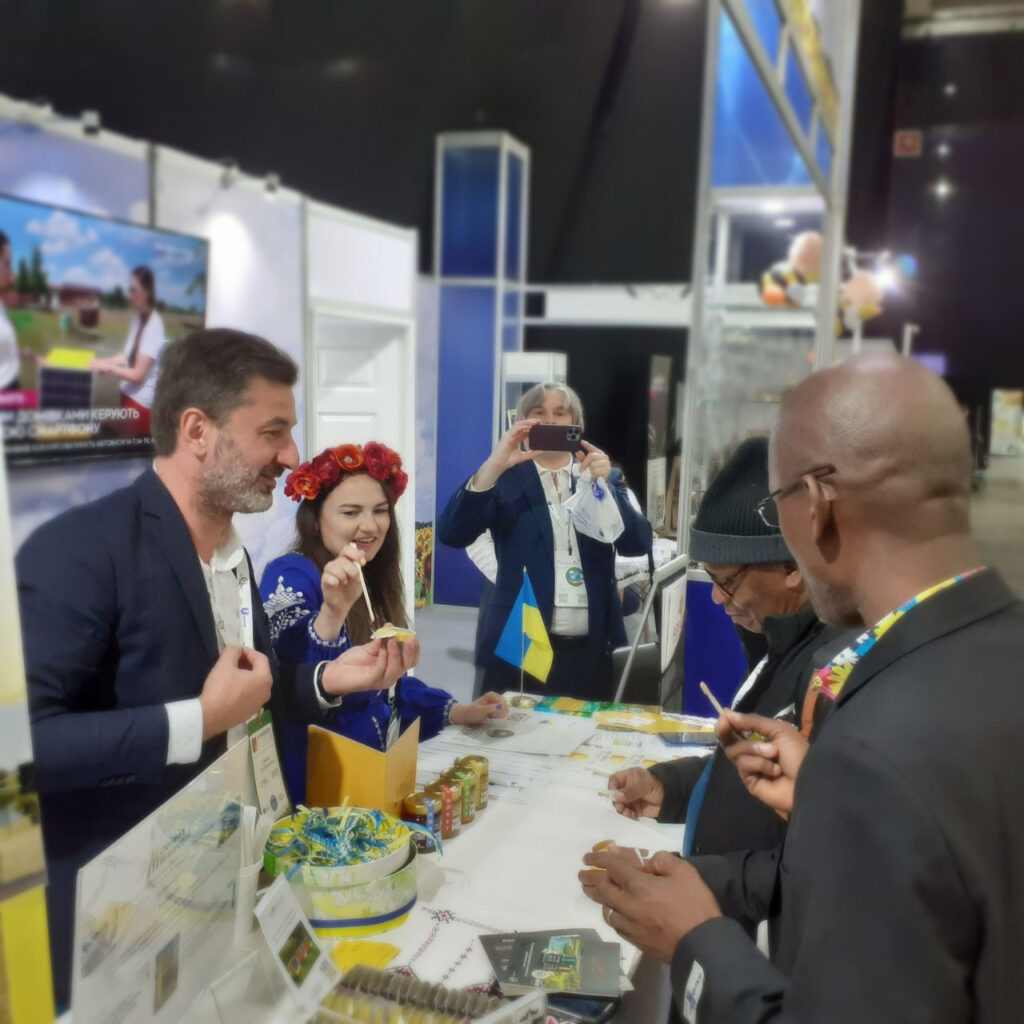 One participant of the event is entrepreneur Oleksandr Stoliarov. For four years, he has been developing "Bee House" production of polyurethane foam beehives in Kyiv. Before the war, he shipped his beehives all over the world, but now, he says, logistics have become much more expensive, so he will be looking for new partners at Apimondia to supply them with modern beehives.
"Since the start of the war, sales of beehives have fallen by up to 80%, and it took us a year to get back to pre-war volumes. We sold them to Hawaii, Lithuania, and Portugal. For example, the price in Hawaii has increased fourfold, so it is not economically viable to ship there. Now our new sales channel is our beekeepers who went abroad because of the war but continue to be engaged in beekeeping there. Two years ago, we were approached by Chilean beekeepers, and I hope that they will be interested in our beehives because they will be able to hold them in their hands and assess their quality. Beekeepers from all over the world come to Apimondia, which is definitely a new opportunity and a new experience," says Stoliarov.
Denys Lahoda, an entrepreneur from Melitopol and head of VRM-Agro, was also part of the delegation. He left occupied Melitopol, but all his new equipment for wax processing and production remained in occupation. Now Lahoda is resuming production in Kharkiv Oblast. Even before going to the congress, he held talks and arranged meetings with potential partners from Canada and the United States. Lahoda's company is also engaged in wholesale sales of honey for export. Currently, the main buyers are the countries of the European Union: France, Croatia, Spain, Belgium, Germany, the Netherlands, and Austria. These are mainly wholesale buyers who then resell the honey in Europe or pack it in small containers and work with retailers.
"Our foreign partners are very interested in us supplying them with Ukrainian wax. Back in Melitopol, we set up a line to produce wax without impurities, pure wax, which is exactly what they want to buy from us. I have already received offers from businesses that are interested in cooperating with us, I will talk about our technology, and I hope that this trip will be fruitful," says Lahoda.
With the support of USAID ERA, Ukrainian producers could present their products and services, understand the current requirements of the export market, and create direct business connections that translate into sales in the Ukrainian honey sector.
According to Ruslan Markov, Honey Sector Lead of USAID Economic Resilience Activity (ERA), the first day of the exhibition showed that the world's beekeeping community is paying great attention to Ukraine's honey business. "There are always a lot of visitors around our stand. They try samples of Ukrainian honey and other beekeeping products, look closely at modern Ukrainian-made beekeeping equipment, get acquainted with our technologies to produce high value-added goods, ask many questions and discuss possible cooperation. We already have preliminary proposals for export contracts. It can also be said that the beekeeping community is not indifferent to the problems of Ukrainian beekeepers affected by the war. Visitors to the event are interested in the state of the industry in the face of war and express their personal support for the people of Ukraine.
"Participation in such an event is very important not only for USAID ERA partner companies. It allows us to restore the position of Ukraine's powerful honey industry in the global market. We have brought with us and are distributing information materials about other Ukrainian companies that are interested in exporting their products. The whole world needs to understand that this industry continues to operate, even in the difficult conditions of war and attempts at a naval blockade. Ukraine is ready to export its high-quality, modern products and successfully compete with other world leaders in this field. This exhibition in Chile also allows us to open our honey industry to South American countries that are not yet sufficiently aware of our potential. This is a kind of opening of Ukraine to the Spanish-speaking part of the global honey business. The contacts made during the business meetings will form the basis for the industry's work in the coming years, and the ideas gained during communication will form the basis for strategic planning of the industry's development for the next decades."
The delegation members have real potential to enter new markets. Over the past year, USAID ERA consultants have been providing appropriate assistance to these partners, and organized and conducted business meetings during the event.
Participation in this exhibition will help Ukrainian beekeepers, beekeeping product processors and beekeeping equipment manufacturers to present the Ukrainian honey industry, find new partners, and thus continue their business activities, increase revenues, and contribute to the preservation and creation of new jobs.