In April and May, the USAID Economic Resilience Activity (ERA) supported training for police prevention units in Dnipropetrovsk Oblast. A total of 180 district, patrol, and juvenile police officers from Kamianske, Kryvyi Rih, and Pavlohrad improved their knowledge and skills in responding to cases of gender-based and domestic violence. ERA's trainers and consultants Hanna Karpechenkova and Hanna Tartynskikh explained the impact of the war in increasing the number of domestic violence cases.
"Economic instability, increased aggression, and uncertainty during armed conflicts increase the severity and amount of violence at home and between partners in relationships. On the other hand, international experience shows that the return of post-combatants to their families is a challenge for families and the community as a whole, which requires targeted actions to facilitate early detection and prevent domestic violence," said Karpechenkova.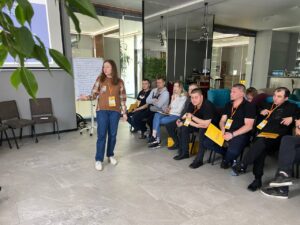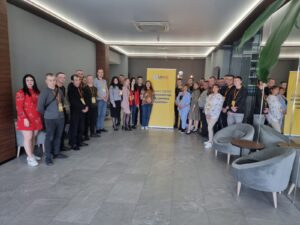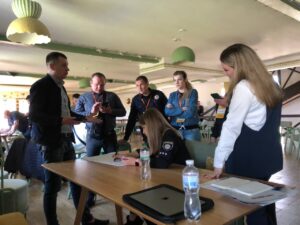 Dnipropetrovsk Oblast, one of the largest oblasts in Ukraine both in terms of population and territory, has received many IDPs who arrived in the region – from Donetsk, Luhansk, and Zaporizhzhia regions. While the city of Dnipro has all the specialized support services in place for survivors of violence, in other cities of the region, violence against women and domestic violence are widespread. As such, the training was timely in terms of equipping prevention police officers, who are often the first point of contact for victims, with the capacity to combat these phenomena. The ERA trainers also focused on the quality and ethics of officers' response which will determine the success of further comprehensive work on combatting violence in the region.
"The police spend almost half of their working time dealing with various calls and requests related to domestic violence. Today, I have a better understanding of how the whole system of bodies and institutions, as well as NGOs, works to counteract cases of violence, and now we will work more closely with them," said Anastasia Harkusha, Prevention Department Inspector, and a participant of the training in Kamianske.
Such training help to establish close communication between the different services that work to help prevent cases of violence in Ukraine as a whole.