Oleh Perepelytsia is an entrepreneur from Kostiantynivka with 20 years of experience. He produced sleepers for repairing access roads to industrial enterprises in Donetsk Oblast before starting to make beehives as an additional business. This April, because of the war, he had to leave his city and move production to Cherkasy Oblast.
The idea of ​​making beehives came to Perepelytsia three years ago, as a use for boards left over from the production of sleepers. Local beekeepers liked the hives, and the number of customers and orders gradually increased. He bought wood for sleepers and beehives first from neighbors in Luhansk and Kharkiv Oblasts, and later in Kyiv and Sumy Oblasts.
"When the war started in February, orders for sleepers stopped. But I continued to make beehives. Already in April, I decided that I had to leave, because the shelling in the city became heavier, and it was dangerous to work there," says Perepelytsia, owner of the enterprise Promkoliia.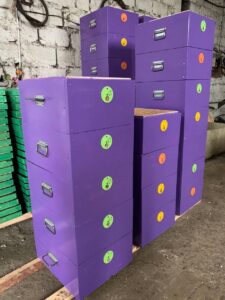 Specialists of Economic Resilience Activity (ERA) helped Perepelytsia to sell part of his finished beehives in order to have working capital for moving.
The entrepreneur needed transport to move his equipment. At the time, freight transportation service prices increased significantly, and many drivers refused to go to Donetsk Oblast. At the same time, a state program for business relocation began, and Oleh submitted an application on the website.
"The next day, they called and told me to prepare the documents and dismantle the equipment to evacuate it. I took woodworking machines, a sawmill, and auxiliary tools. I also took raw materials – wood and boards. Everything was put into five trucks, which went to a safe place, to Cherkasy Oblast," the entrepreneur says.
Before going to Cherkasy, Perepelytsia had been to Dnipro, Kyiv and Chernihiv regions, looking everywhere for premises that would be suitable for his workshop. He could not find what he wanted – either the rental price was too high, or the premises were not suitable and needed additional repairs.
Finally, in the village of Moshny, Cherkasy Oblast, Perepelytsia rented a production facility and gradually resumed beehive production. He hired local residents to work with him, and now already has a small team of six. Although many beekeepers remain living in occupation in the eastern and southern regions, the entrepreneur receives orders from other parts of Ukraine. He uses a website through which he receives orders, and then sends the hives by post.
Perepelytsia does not plan to return home. He says that he will continue developing his enterprise in Cherkasy Oblast.
"I like the new place: there are many beekeepers who are my potential clients, and there are raw materials nearby from the forest. I think I have come to the right place, and will work now in Cherkasy Oblast," he says.