Hanna Telychko developed a network of robotics centers in Donetsk Oblast, east Ukraine. More than two hundred children attended her classes in the small towns of Vuhledar, Kurakhovo, Volnovakha and Novotroitske. Due to the war, the entrepreneur lost her business, but now she is again teaching children the professions of the future in west Ukraine.
With Economic Resilience Activity (ERA) assistance, Telychko developed and equipped robotics centers with blackboards, furniture and modern construction kits for assembling robots. Children enjoyed attending classes and participating in national and international robotics championships.
The war changed everything. Telychko's robotics clubs in Vuhledar and Volnovakha were damaged by shelling, leaving only the remains of burnt equipment. Telychko does not know what happened in Novotroitske, as the city is currently under occupation. She managed to evacuate several construction kits from Kurakhovo which she used to resume work in Rivne, where she moved with her family.
At first, Telychko volunteered with the public organization Territory of Sustainable Development, buying food and hygiene products which she sent to residents still in Vuhledar. But she needed to get back to work.
She wrote more than ten applications to various foundations and organizations. Finally, her request to teach children robotics was supported by the Ukrainian Women's Fund (UWF), and the Institute for Economic Research and Policy Consulting.
Under UWF's Girls Can! project, Telychko now runs robotics master classes for 750 girls in Rivne and Khmelnytskyi Oblasts. Schoolgirls from 6 to 15 years old attend the free classes. As a gift they receive a book that should encourage them to continue learning.
"We show children how to program robots at the workshops. We should motivate them, telling them that the world is changing rapidly and they should think about choosing a profession that will be in demand when they finish school," Telychko says. "Despite the war, we talk about the future, because now the military, volunteers, and all Ukrainians are fighting for victory."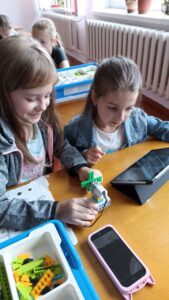 Both girls and boys come to robotics master classes supported by the Institute of Economic Research and Policy Consulting. Even during the summer, there are always children willing to participate. Information about the arrival of trainers is distributed in groups among the educational institutions of relevant towns. During three months of the Looking into the Future project, Telychko should attract 750 children from regional cities and small towns of western Ukraine.
The classes are a way of distracting children from the war and helping them adapt psychologically.
"Many children, along with their parents, became displaced persons," says Telychko. "They lost their usual circle of contacts, and live in other people's apartments or in shelters. It is very important to help children cope with such challenges. In our classes, while constructing a robot, and doing something for the first time, children can be distracted."
Telychko understands these challenges because she herself has been displaced twice. In 2014, her family fled from the war in Donetsk city. In a few years, the candidate of technical sciences was able to create a successful business in Donetsk Oblast, but then war came again.
Now, in Rivne Oblast, Telychko and her husband Serhii are thinking about how to restart the business. They are getting in touch with local entrepreneurs, establishing contacts, and conducting a survey among parents to see if they are ready to pay for their children's robotics classes. The Telychko family believes that they will succeed because they have the most important thing: experience.