Hanna Oshchepkova started a network of children's centers in Kramatorsk in 2014. She and her colleague Iryna Moskalets came up with this business idea because they wanted to give their own children an opportunity to develop. Over eight years, the partners opened four Planeta Znan (Planet of Knowledge) centers in the city, offering 26 original courses on early development, preparation for school, speed reading, development of logical thinking, mental arithmetic, and other topics. More than 500 children attended classes during the year.
Hanna Oshchepkova has repeatedly participated in trainings for representatives of small businesses and Business Breakfasts organized by Economic Resilience Activity (ERA). Thanks to the new contacts (networking) with regional entrepreneurs, and expertise in marketing and photography, Anna successfully developed her business.
At the end of last year, the entrepreneur opened a small private kindergarten. She planned to open a large kindergarten in February 2022, and had purchased furniture and educational equipment. The war changed these plans.
"During the two months of operation of our first kindergarten, we saw that there is a demand for these services – people brought their children to us even though there were places in municipal institutions. That inspired our further development. Our small kindergarten was based in our educational center, which was inconvenient as the children needed a playground. So we decided to expand. We rented a large private house so we had our own playground, got all the permits, bought furniture and were preparing to open a kindergarten for 60 children," says Oshchepkova.
A few months later Oshchepkova opened the kindergarten – but in Ivano-Frankivsk Oblast.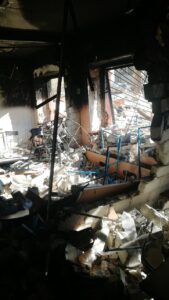 On February 24, all her plans for business development changed. Classes were stopped, and people began to leave Kramatorsk when Russia invaded Ukraine. It became too risky to work with children. In March, one of Oshchepkova's largest centers in Kramatorsk was completely destroyed by shelling by Russian troops. After that, all furniture and workbooks were moved from the centers to a safer location.
The situation in the east continued to worsen every day, but even after the center was hit by shelling, Oshchepkova did not consider leaving. Her whole family worked as volunteers when the business closed, and they refused to leave their home until April, when mass evacuation from Donetsk region was announced.
In May, at the invitation of a colleague, Oshchepkova went to Kolomyia. Since her business stopped on February 24, she had had no income, so after two weeks in Kolomyia she began exploring options for continuing entrepreneurial work by opening the kindergarten she had planned to open at home.
She took the train back to Kramatorsk to collect the kindergarten equipment, although she had no idea how to transport it 1100 kilometers.
"Transporting everything by truck across Ukraine was very expensive, and our family couldn't afford it. On the train, I remembered the state program for business relocation and filled out an application. Literally in an hour, I got a call from Ivano-Frankivsk Oblast Military Administration and they offered a state railway wagon to take all our equipment. This surprised me, because we were planning to relocate not a factory, but a kindergarten and equipment, but it gave us the strength to move on," says Oshchepkova.
The family rented a five-ton truck in Kramatorsk and took everything they could fit in it. In Pokrovsk, everything was reloaded into a railway wagon to Kolomyia. In addition to the furniture purchased for the kindergarten, the family also took their own machines and tools which they used to make educational materials for their development centers and kindergarten.
"Everything worked out quickly, and as we wanted. We were looking for opportunities, and so they appeared," says Oshchepkova. "I want to tell people, especially businesses from the east who are still hesitating about what to do, where to go, and whether it is worth moving or not: I think it's worth it in order to develop, support your family, give work to others, pay taxes and bring our victory closer."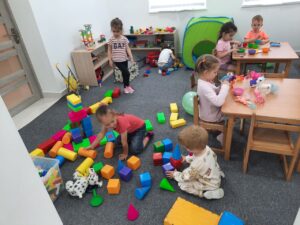 While they were waiting for their equipment in Ivano-Frankivsk Oblast, Oshchepkova started an advertising campaign on social networks to recruit children for the kindergarten. Within two weeks, she rented premises in Kolomyia, installed equipment and opened for the first pupils.
Now it is the largest private kindergarten in the city, attended by 20 children. By autumn, the entrepreneur plans to double the number by recruiting new groups. In addition to developmental classes, the kindergarten teaches logic and memory skills according to the Japanese system.
Hanna Oshchepkova plans to return home, but by then she will already have a branch of her business in Prykarpattia, so she considers this relocation as scaling up her favorite business.