Viktoriia and Oleksii Sorokiny from Zaporizhzhia began developing a family snail farm three years ago. The day before the war started, they opened a sales point in the city center offering burgers with snail cutlets. War temporarily interrupted their business, but the couple have now resumed work, and internally displaced persons (IDPs) from Mariupol and Berdiansk are among their customers for snails and oysters.
The Sorokiny family worked in automation of greenhouses until they got a job modernizing a snail farm and were inspired to try the business for themselves.
"When we saw the process of growing and processing, we were fascinated by the idea to create such an enterprise at our place. That's how we started our snail business. People say it's for lazy people, but it's not like that at all," says Viktoriia Sorokina.
The couple developed their business by visiting festivals and investing in their farm in the village of Volodymyrivske, near Zaporizhzhia, growing, processing and selling finished snail products. Their breeder's stock (the so-called snail livestock) started at 60 kilograms and grew to one and a half tons of snails.
Snails are grown in a room with constant temperature and humidity. The family also have a pasture planted with rape for snail feed.
At first the couple sold snail delicacies at fairs, festivals and tasting events. On February 23, they opened a sales point in the center of Zaporizhzhia. But the next day Russia invaded Ukraine, and the point closed.
"Of course, we were not ready for such a turn of events and took the family to
the village to prepare for the worst-case scenario. We lived there for a week, arranged shelter, and stocked up on food. But thanks to our defenders, the worst-case scenario did not happen," Sorokina remembers. "After a while, we decided to start work again because there was a shortage of food and essentials. If no one is working, then who will support the economy and our defenders? During the first days of Russia's invasion, many of our relatives, acquaintances and partners joined the Armed Forces of Ukraine. We knew there were problems with equipping our soldiers, so we decided to reopen our sales point to make money and help others."
The entrepreneurs had little hope that people would eat snails during wartime.
Finally, they decided they should start with "understandable" products: they called all their farmer partners and bought cheese, milk, pastries and asparagus from them. They also put snails in the freezer, just in case. With this to offer, they opened the sales point. In addition to starting work themselves, this helped local farmers who had few or no sales.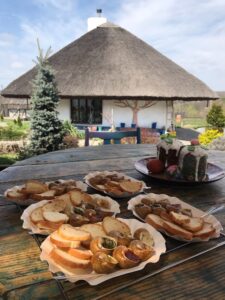 "And a miracle happened! People started coming and buying snails, and then we added oysters from our partners, and people started buying them as well," says Sorokina. "It was incredible! Thanks to this we managed to start our production again and bring our chefs back to work after they'd been at home for a month. We believed that we would succeed. After we started selling, our income increased and we had the opportunity to support our defenders."
IDPs from Mariupol and Berdiansk began to come to the city, fleeing from the war, and also became customers.
"Our customers say that when they buy oysters and snails from us, they are reminded of their homes and the sea. One girl from Berdiansk often comes in the evenings, buys a portion of snails and sits for a long time near our sales point, probably remembering her home. Now people do not make plans, they live for today, so they allow themselves to enjoy delicacies," says Sorokina.
Thanks to the snail business, eight people have paid jobs and the entrepreneurs themselves pay taxes to support the economy and the approaching victory of Ukraine. They also help displaced people who have come to the city.
Sorokina dreams that peace will soon return to Ukraine, and she and Oleksii will again take part in craft farming festivals and promote their snail products.