Students of the Mariupol branch of the Ukrainian Leadership Academy (ULA Mariupol) left Mariupol a few days before the war started. They continued their studies in Ternopil. Volunteering is an important component of the study program, with each student aiming to devote 120 hours to volunteer activities. In fact, each student has now contributed more than 200 hours.
Read more about the good deeds the students participated in: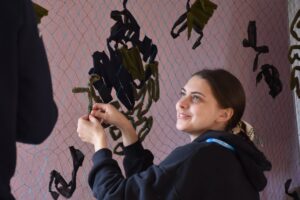 Netting
The students immediately made a stand for weaving nets, not only to help other volunteer organizations but to weave camouflage nets themselves for the army in their free time. Eight nets were sent to two students of ULA Mariupol who are currently in the ranks of the Armed Forces of Ukraine (AFU). In total, the students made more than 13 large camouflage nets.
Science Center Headquarters
The students contacted the humanitarian aid center in Ternopil to offer their assistance. They helped to structure the work of volunteers; accepted donated clothes, food and medical supplies, and distributed them to people who were forced to leave their homes due to active hostilities and moved to Ternopil.
"It's incredible to see grateful faces and to feel that you can be helpful here and now," says student Daria, about her volunteering experience at the humanitarian headquarters.
Candles for the military
In social networks, students saw an interesting way to help the AFU by making trench candles. These candles serve three purposes: a source of light, heat, and a small fire for heating water or food. Thus began the craft of making long-lasting candles from tin cans, paraffin and cardboard. Materials were donated by residents of Ternopil and people who have moved here. In total, the students made and sent to the frontlines more than 60 candles.
"I am very grateful to the volunteering department and the organizers of volunteers for the opportunity to express myself and enjoy helping others," says Ivan Kovalev.
Energy bars and dumplings for the military
Together with Ternopil scouts organization, students made energy bars from dried fruit, berries and nuts. They also cooperated with Bunker C organization to make dumplings for the local territorial defense unit. Altogether they made about 100 kg of dumplings and about 1,300 bars, which now give energy to our soldiers.
Volunteering at a humanitarian warehouse
In cooperation with Ternopil Oblast Military Administration, the students organized and coordinated the process of collecting food kits for Kharkiv residents. More than 50 people were simultaneously involved in gluing boxes, packing them with food, and loading them into train cars. More than 300,000 humanitarian aid food kits for Kharkiv residents were packaged and sent.
Skhidnyi menti (eastern mentors)
Student Uliana Yatsenko and an initiative team of students created a mentoring project for displaced children in Ternopil. During the training course, children work individually with volunteer mentors and attend group meetings. This should help children with socialization and adaptation to a new place, and encourage social activity. Mentors conducted 133 classes and worked together with displaced children for more than 130 hours. In the future, the students plan to continue the project and scale it up to the national level.
"Volunteering helps me to recover resources and improve my mood. For example, when I volunteer with children, I learn a lot of new things together with them. They teach me to enjoy the little things in life, and not to lose the twinkle in my eye," says student Vika Plysak.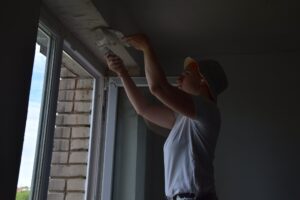 Building Ukraine Together
In Drohobych, together with Building Ukraine Together (BUR) organization, students helped rebuild a dormitory for displaced people. They spent three days at the construction site to prepare the floor of the building for cosmetic repairs. They also participated in the construction of a shelter for displaced persons and equipped a house for Plast (Ukrainian Scouts Organization) members in Drohobych.
"I like that volunteering gives me the opportunity to meet new people and communities. Also, helping others provides a lot of experience. For example, I learned how to put in window glass," says student Yana Trofimchuk.
ULA is a ten-month youth leadership program uniting students from different regions in one center to share culture and build social connections. There are 37 students studying in ULA Mariupol branch.