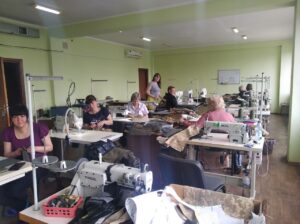 Victoria Karpova moved her apparel business to Lviv from Pokrovsk, Donetsk Oblast. Before the war, the businesswoman developed a training center at home and her own sewing workshop, where she made stylish clothes for the whole family. Now again she is teaching beginners sewing, but the clothes they make are for the military.
Karpova has been in the garment business for more than 20 years. She invested time and money in the development of her company, Pokrovchanka, and trained those who wanted to sew and earn a living. Staff at her enterprise made women's, men's and children's clothing, branded clothes for employees of various companies and creative teams, and embroidered shirts and dresses. The company sold clothes to order for regular customers, and through marketplaces and a network of dealers. The team also took active part in forums, exhibitions and shows.
Karpova also established a training center called Kvitka Lonu (Flax Flower). The center was opened with the support of international donors, and three groups of students (more than 40 people from Donetsk Oblast) were recruited to learn sewing for free.
Karpova participated in Business Breakfasts for entrepreneurs organized by USAID Economic Resilience Activity (ERA) to help small businesses in Donetsk Oblast establish contacts with each other and find new partnerships. She was also a participant in ERA training and mentoring programs for representatives of small enterprises, where she learned how to scale her business and find new customers.
In the winter of 2021, the businesswoman was invited to start a garment enterprise in Sloviansk, Donetsk Oblast. The new workshop was launched but only worked for a week as the war started.
Karpova quickly decided to leave and escape the hostilities in Donetsk Oblast. When Russia invaded, some of her equipment was already packed up as she was already preparing to move after the premises she rented were sold. She participated in a government program for business relocation to safer regions initiated by the Ministry of Economy of Ukraine, receiving UAH 40,000 reimbursement for the relocation of her equipment.
"I packed up my sewing machines a few months before the start of hostilities, so when I received the offer to move, I didn't have to think for a long time. All the puzzles came together: we quickly found a car, loaded our sewing equipment and left Pokrovsk," she said.
She decided to move to Lviv, and while already on the way she was told about premises where she could place the equipment and start working. Her clothing, however, had to be changed from a family look to a military one. The knowledge and skills gained during ERA training activities helped the businesswoman to resume her sewing business in Lviv.
Her workers from Pokrovsk refused to move, so Karpova looked for new seamstresses in Lviv, and found two displaced women from Kharkiv. They had no sewing experience, but were eager to learn from the businesswoman.
Now the new team is fulfilling orders for military tactical pants, and is also designing a military jacket. There is great demand for such clothing in Ukraine.
"It is difficult now, but I believe I am gaining new experience and new opportunities are opening up for me, so I will use them to become stronger. I and many people from the east are very strong and tough, we can get used to new conditions. You just have to not give up, and do your best," says Karpova.
After the war, she plans to return to her native Pokrovsk and open a branch of her business there, with the main office in Lviv.