Olesia Vlasova and her two daughters could not leave Sievierodonetsk in Luhansk Oblast for two weeks because of heavy shelling in February 2022. Finally, they caught an evacuation bus to a camp for internally displaced persons in Zolotonosha, Cherkasy Oblast.
At home, Vlasova had a business making fleece kigurumi (pyjamas in the form of animals) and slippers to order. She offered her sewing services in Zolotonosha.
"The head of the camp asked me to sew mattress covers, because there were so many people in the camp and they had nowhere to sleep. She gave me fabric, but I didn't even have a ruler, so I used a handy tool, a tape measure, to measure and cut the cloth. That was a new, interesting experience for me," says Vlasova.
Due to the large flow of people and lack of space in the camp, she moved to Khust in Zakarpattia Oblast within a week, and then to Germany, to the town of Buchholz in der Nordheide in Lower Saxony. She applied for social benefits but also decided to earn money herself to be more independent.
There were three sewing machines in the German family where Vlasova stayed with her daughters. She set to work. Ukrainians who she met in Germany began bringing her clothes to repair, paying for these services.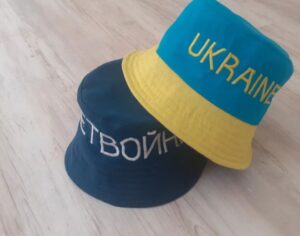 In May, Kalush Orchestra from Ukraine won the Eurovision Song Contest. The vocalist performed in a bright pink panama (bucket hat). Vlasova made a similar hat for herself from some pants she found among the clothes donated as humanitarian aid.
After that she started receiving orders for such panamas. The customers are Ukrainians living in Germany; she also got some orders from Britain. Vlasova is preparing another large parcel of panamas for Ukraine. Now she has two sewing machines which she uses together with her daughter.
If she stays in Germany until fall, Vlasova says she will return to making kigurumi. Her entire collection was burned in Sievierodonetsk, but she has not lost her optimism and wants to restore it.
"What's most important is that I know how to do it; this knowledge is inside my head, so I can reproduce all the patterns again and sew my favorite kigurumi to order," she says. "There are no such comfortable warm clothes for home in stores here, so I believe this is a free niche that I can fill. Besides, Germans value handmade work and are willing to pay money for it."
Despite everything, she dreams of returning to Ukraine and creating a new wonderful workshop for making designer clothes for children and adults.