Hanna Dondyk and Nataliia Yefymenko from Zaporizhzhia have been successfully developing their own business for three years. They make pastille and fruit chips, crispbread and vegetable chips, and have been increasing their assortment and volume, creating new recipes for natural delicacies. They regularly took part in festivals held by USAID Economic Resilience Activity (ERA), gaining new partners and clients until everything changed on February 24.
Due to Russia's full-scale invasion, the women were forced to change their main product. They did not work for the first few days of the war, but then they decided to help the Armed Forces of Ukraine while earning money to support the state economy and themselves.
The women had developed 42 types of pastille from various fruits, but with the beginning of the war they realized that people would no longer be buying delicacies but only basic necessities. The business partners had to reorient production to something else. Now they make soups for the Armed Forces of Ukraine.
"Orders for pastille dropped to zero, and we needed a new product, so we started experimenting," says Hanna Dondyk, Arty.ua co-founder. "We saw that there was no way for soldiers on the frontlines to cook, but they needed hot food that could be quickly prepared in the field. So we decided to prepare dry soups and borsch."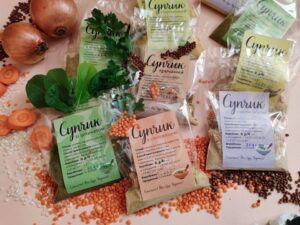 Their equipment was suitable for this, as it was used to dry fruit and vegetables. Every day in their workshop, the women experimented with new flavors. Over a period of time, they created their own recipes for nine soups with rice, mushrooms, lentils, spinach, buckwheat and meat, as well as borsch. The soups just need hot water to be added, although some need to be cooked for 15 minutes.
"We mix boiled vegetables and dry them, then grind them, so we get a vegetable powder that just needs boiling water. Thus Arty.ua has created a new line of products according to the needs of the time," says Dondyk. "From our assortment, we created a fully-fledged dry ration called "Victorious" for the Armed Forces. It includes soup, crackers, crispbread (cereal flakes), pastille and tea or coffee; it is in demand, and we have orders for such dry rations. Those who want to join the business can make a "suspended" dry ration: when a person pays for a ration but doesn't take it, we send this ration to the frontline, to whoever the purchaser specifies or volunteers ask."
Soups are sold through social media pages. The company is also willing to work with other farmers and volunteers. For example, bread can be brought to the women to be made into crackers. Or they arrange an exchange, whereby farmers bring vegetables and receive finished products in return.
"In the difficult times that have come to our country now, such flexibility in business helps us and our partners to survive. Therefore, we agree to such cooperation, in fact, to barter," Dondyk says.
The entrepreneurs have considered what to do if the security situation in Zaporizhzhia worsens. "We discussed among ourselves whether we should leave, and what to do in case of increasing danger — where to transport the equipment, where to find premises. That's how we developed plan B," says Dondyk. "Plan A was to stay in place and work."
Plan B has not been implemented yet, because the women's team of six employees remains in Zaporizhzhia, working every day to produce delicious products.
This year raw materials supply is problematic. Fruit and vegetables that used to be brought from Kherson Oblast are unavailable due to the occupation, while produce grown in Zaporizhzhia Oblast has become more expensive, as it is not sufficient to meet demand. But even in such difficult times, entrepreneurs find new opportunities.
In September, representatives of Arty.ua took part in RigaFood 2022 international exhibition of craft producers in Riga, Latvia, which gathered about 400 manufacturers from Europe, Mexico and the USA. The entrepreneurs brought pastille, dry soups and borsch, which they sold to visitors of the event or offered to potential partners. Similar products (fruit pastille and dry soups) are available in Riga, but the entrepreneurs from Ukraine hope they will be able to find a niche for their delicious natural products. Now the women are negotiating with several European wholesale buyers, which will allow them to sell their products in stores in countries of the European Union.
The women also plan to open a craft store called Soloma in Zaporizhzhia, where they will sell their products to locals. There are already several such shops in the city where craftspeople sell their goods. Such cooperation is a profitable opportunity to present a wide range of different manufacturers and help each other in difficult times. The entrepreneurs also dream of creating an online store to present the delicious products of craft producers of Zaporizhzhia Oblast and other regions for purchase and delivery.