USAID Economic Resilience Activity (ERA) helps small and medium enterprises in eastern Ukraine to raise external funds for development and scaling up.
Why are investments important for development?
Business development or scaling up requires financing from banking institutions, investors and other interested organizations.
What are the prerequisites for successful investment?
Competency, a clear action plan and the ability to implement this plan.
Why do companies need support?
The domestic Ukrainian market for raising funds for SME is poorly developed. Most companies are not experienced in communicating with investors or preparing and defending clear, realistic proposals and development plans.
Who can get investment promotion support from ERA?
SMEs with:

Staff – up to 250 people
Annual revenue – up to 40 million euros equivalent
Balance sheet assets – up to 20 million euros

Companies located in the government-controlled territories of Donetsk and Luhansk Oblasts, as well as in the Sea of Azov region of Zaporizhzhia Oblast.
What are the principles of  ERA investment promotion support for SMEs?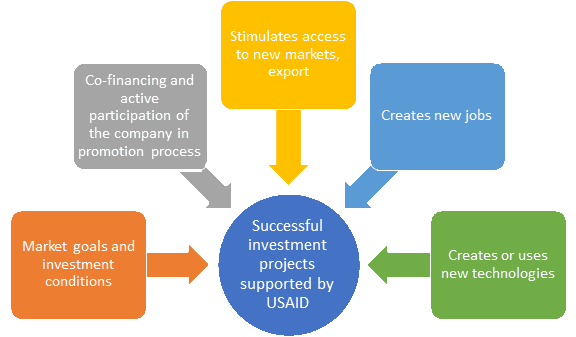 ERA supports investment (external financing) through its partners, contractors and grantees, who include leading investment funds, commercial banks, investment banking companies, financial advisors, credit unions, etc.
Partner portfolio
| | | | | |
| --- | --- | --- | --- | --- |
| WNISEF | SOUL PARTNERS | ERNST & YOUNG | GAZELLE FINANCE | UUCU |
| | | | | |
Investments of up to $500 thsd. equivalent
Credit unions
5-7-9% Program
WNISEF
Transaction Advisory Services
This program provides help with investment banking services to raise external funds by professional investment bankers. ERA covers a significant part or the full cost of services (depending on the amount of financing).
The program provides several stages of support in investment promotion

The program provides two amounts of funding implemented by two different partners (ERA contractors).
Investments of $500 thsd. – $1 mln. equivalent
Implemented by Soul Partners
Award for investment promotion – up to 2% of the amount (in case of successful promotion)
More than $1 mln. equivalent
Implemented by Ernst & Young
Other opportunities for SME
Opportunity 1: Involvement of top consultants to address issues that are important to your business. ERA pays for the consultants' services.
Opportunity 2: We are open to your ideas. Use the box below to share your business needs with us; we will give you a qualified answer.