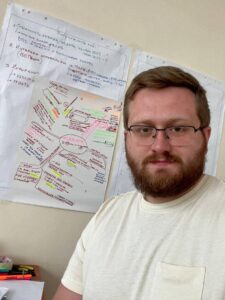 AwareZone is the first ever coworking space for young people in Mukachevo (Zakarpattia Oblast). It was opened by several internally displaced persons (IDPs) from Dnipro, Kyiv and Mariupol.
One of the initiators, Yurii Davydenko, left Mariupol and moved to Mukachevo in March 2022.
Davydenko worked at 1991 Mariupol IT Hub as an event manager for the IT community, bringing together local young people who were developing startups. He used his organizational and communication experience to open the new hub.
AwareZone supports displaced people, youth, and community activists with a comfortable space for development, creativity and socialization. More than 30 people – both locals and Mariupol residents – came to the opening. International partners EDYN, Ukraine Friends, 3.5 Percent, National Democratic Institute, Help Ukraine 22 and Operation Palyanytsya helped to equip the space.
"When I came to Mukachevo, I found out that local youth had no place to meet and IT people were asking for space to work. We immediately realized that there was a need for a creative space. Since we'd had such a space in Mariupol, we set to work. International donors and individual supporters provided money to open the coworking space. In a month we created a new space for startup development and a meeting place for activists. The experience from Mariupol helped us a lot. At home we gained experience in working with and for people, so in a new location we just applied our knowledge," says Davydenko, Project Manager and IDP from Mariupol.
Located on the premises of a shopping center, the coworking space has tables, chairs and armchairs, laptops, a projector, and a flip chart – everything needed to hold an event. From the balcony visitors can enjoy an inspiring view of the mountains. The number of people willing to work here is gradually increasing.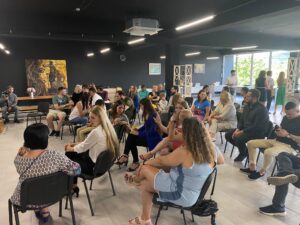 "There were several spaces and hubs in Mariupol where the IT community gathered; trainings and various events were held, or you could simply work with a laptop. There was no such a place in Mukachevo, but the demand was big enough, so we believe that we will breathe life into the space as we have invaluable experience from Donetsk Oblast," says Davydenko.
IDPs from Mariupol opened another coworking space in Khmelnytskyi and raised money to buy furniture, install high-speed internet, and set up 15 workstations with computers.
"Filling any space with life is hard work every day. You have to create an ecosystem, building relationships between those who come to the space, and attracting those who will be permanent residents – who will work every day and pay money for it. It is difficult, but we believe that we will succeed," says Davydenko.
Now there are seven people in the coworking team. They are submitting grant applications to various organizations in order to improve conditions for bringing people together in the coworking spaces and facilitating their adaptation to a new place, despite themselves being up to 1,400 kilometers away from home because of the war.