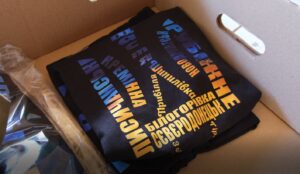 In April, Dmytro Kosilkyn left his hometown of Lysychansk in Luhansk Oblast, where since 2015 he had been developing a sewing business and had a large workshop with modern equipment.
For two months after the beginning of Russia's full-scale invasion of Ukraine, he volunteered to deliver humanitarian goods to local residents.
Finally, friends persuaded him to relocate his sewing equipment to Dnipro. At the time, it was difficult and expensive to transport large goods out of Lysychansk, because of ongoing fighting in the city. There were no more trucks in town to take the equipment out of the workshop, so Kosilkyn and his friends transported what they could lift themselves. The expensive automatic pockets machine and laser plotter remained in Luhansk Oblast.
"I asked some men to help me load the equipment. We took what we could lift – sewing machines and automatic equipment; a stapler, contour sewing machine and gluing machine. We also took some of the finished products – winter and spring collections of children's overalls. We took everything we needed for a quick start," says Kosilkyn.
In Dnipro, Kosilkyn's friends helped him to rent a production facility where he installed the equipment. Two female employees moved to Dnipro to work with him, and two more female IDPs are now learning to sew. It is a big reduction from the 10 workers in the workshop before the war, and the products have also changed dramatically. Before the war, the company produced children's waterproof overalls; now they make clothes for the military.
In May, they started sewing patriotic T-shirts and the most necessary items for the military: plate carriers, belt-shoulder systems and different pouches. Following the advice of soldiers who came to the workshop and showed them what was comfortable, they made high-quality products.
Later, Kosilkyn found his niche and began using the membrane fabric which he had previously used for waterproof children's clothing.
"In the winter, we ordered white membrane fabric, agreed with our partners about printing on it, and made test samples for children's overalls. But then the war broke out. Children's color prints were replaced by pixel, and we started sewing ponchos – rain covers for the military. The first samples were not successful; the sleeves were too short, and water leaked from them onto the wearer's clothes. We improved that, and now our ponchos are the most comfortable and effective means of protection in the rain," says Kosilkyn.
The Lysychansk producers posted information about their products on social networks and began promotion. Military units began to contact them and order raincoats, both wholesale and retail.
To gain working capital to pay off loans, the entrepreneur is holding a sale of already-made children's clothing at significant discounts. You can buy them at this link:
While Kosilkyn and his employees make products for soldiers, they want to sew for children again, to produce family-friendly, bright collections of warm clothing.
The businessman does not plan to return home, because he always dreamed of moving to a big city. In the future, he plans to develop his business in Dnipro.