Rubizhne Hosiery manufacturer will support a local girls' football team now being created in Luhansk Oblast.
"We decided to support this initiative and help set up a girls' team. Our company will buy sports uniforms for the girls, we will also provide them with football gaiters of our own manufacture and pay for a coach. Children in small towns also want to have a chance to develop. By our example we want to show that this is possible with the support of business and caring residents of the region," said Hennadii Misiurenko, Director of Rubizhne Hosiery Manufacturer.
The girls' football team will be called Movigo, which means constant movement forward and the pursuit of perfection. It is under this brand and concept that Rubizhne Hosiery Manufacturer is entering the market of sports socks. ERA is helping the company in this expansion.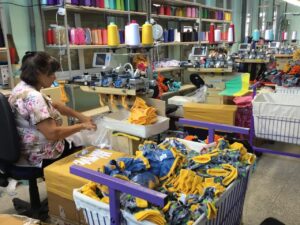 "As we are entering the market with sports socks, we will support the development of sport in the city. We position ourselves as a socially responsible business that helps the city and its residents," said Misiurenko.
The girls' football team is now recruiting girls aged from 6 to 11. Rubizhne Hosiery Manufacturer has established cooperation with clients in the European Union, sending socks to Spain, the Netherlands and the Czech Republic.