On June 8, about 200 representatives of business, government, and international donor organizations took part in the First National Forum "Helping Businesses in Wartime: National and Regional Aspects". The event was held with the assistance of the USAID Economic Resilience Activity (ERA) and the Reform Support Team of the Ministry of Economy of Ukraine.
During the forum, four panel discussions were held, the speakers of which were the Deputy Minister of Economy of Ukraine, Nadiia Bihun, the Head of the State Employment Service, and representatives of USAID ERA, the Reform Support Team, OshchadBank, European Bank for Reconstruction and Development (EBRD), the USAID Competitive Economy Program (CEP), the USAID  Agriculture Growing Rural Opportunities Activity (AGRO), as well as relocated businesses, regional and local authorities from liberated territories (Kyiv and Sumy oblasts), and economic development agencies.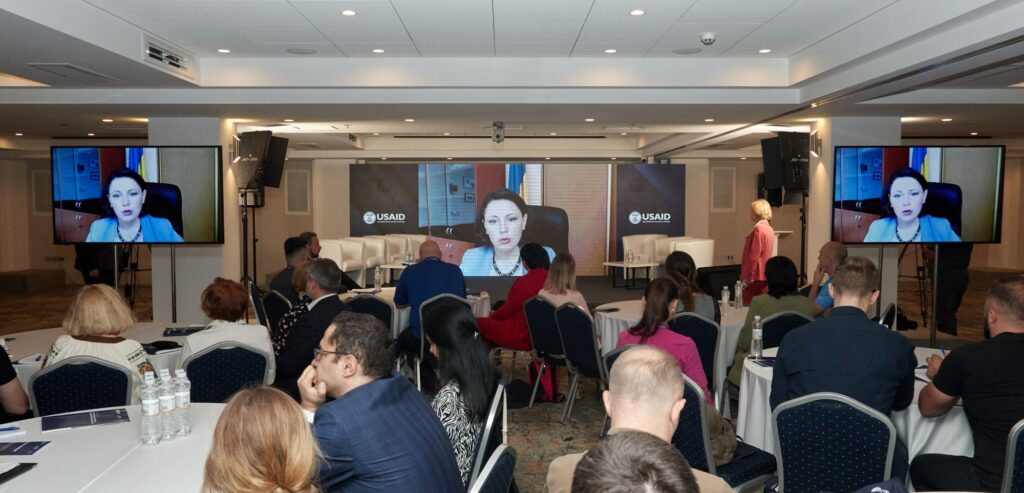 The Deputy Minister of Economy of Ukraine, Nadiia Bihun, spoke about the opportunities for business during the war, and announced a grant program where applicants cover 30% of the funds and the state – 70%. The program is aimed at creating new jobs. Thanks to state grants, businesses receive support, purchase equipment, and implement their ideas. The 5/7/9 program – one of the main lending programs, is also in effect.
"The Ministry of Economy analyzed how much money is returned to Ukrainians when they buy national products. It turned out that up to 40% of the product's value is returned to Ukrainians in the form of taxes at various levels. We believe that despite the war, business will grow, strengthening our country economically," Ms. Bihun said.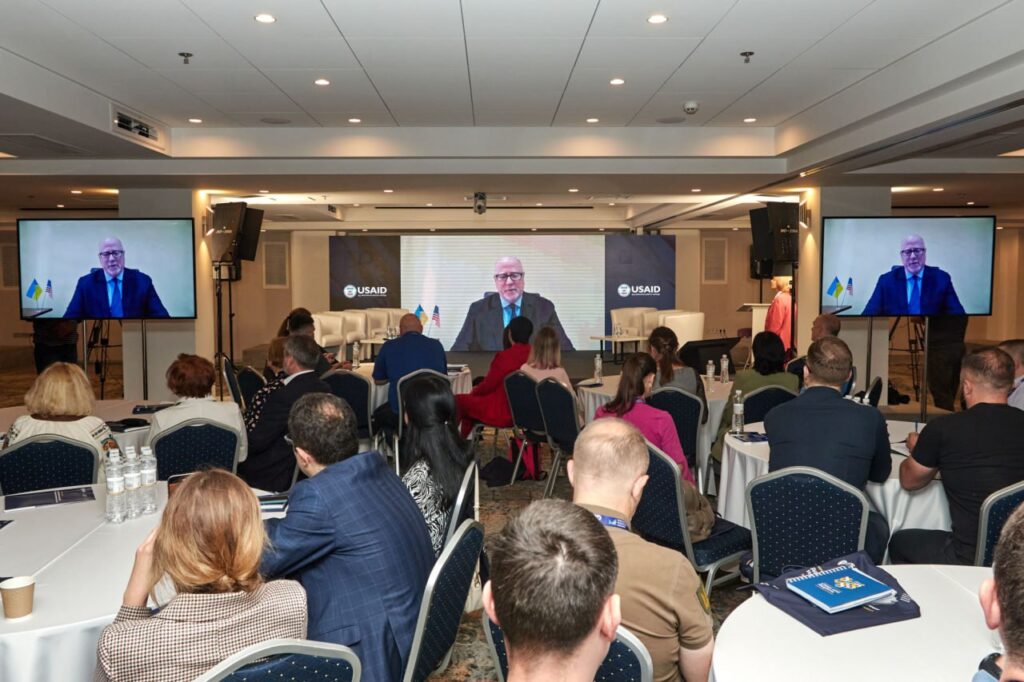 Chief of Party (COP) of  USAID ERA Timothy Madigan, in welcoming the participants to the event, spoke about the history of the creation of dialogue platforms. USAID ERA started these platforms in 2022 together with the Reform Support Team of the Ministry of Economy and already held 13 of them where important topics for business were discussed, including on relocation, payments, where to find personnel, how to export products, and how to get grants.
"Over 1,000 entrepreneurs joined us at these events over the past year, 60% of them were companies resettled from the east. The team also created an online grant calendar for business. I believe that we will continue to look for new ways to support and develop partnership, and together we will restore Ukraine," Mr. Madigan said.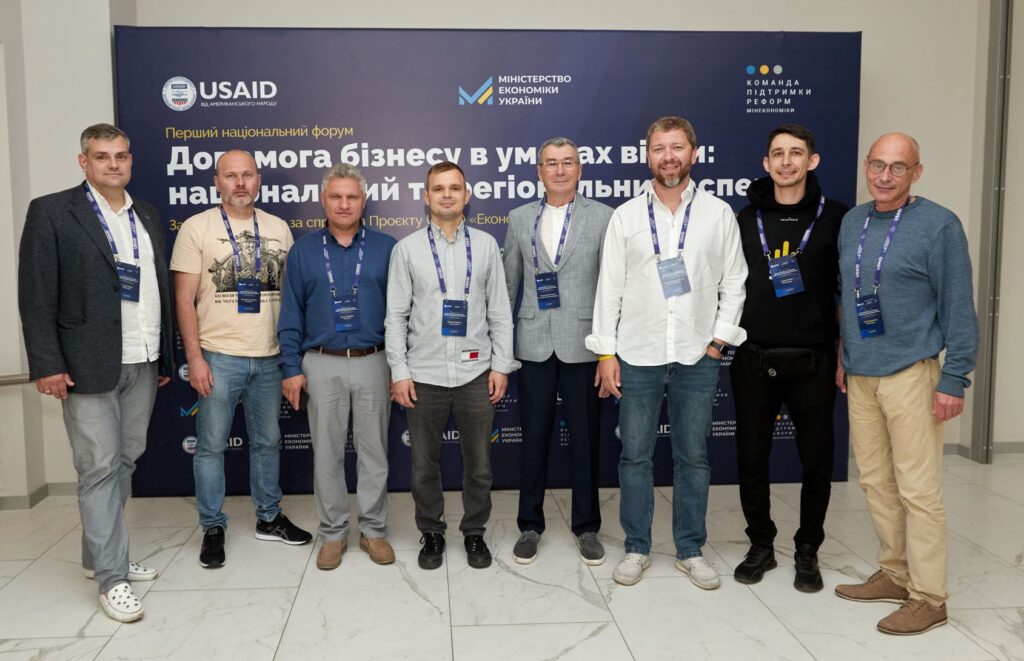 Participants of the first discussion panel were entrepreneurs who relocated their businesses from Donetsk, Luhansk, Mykolaiv, and Kharkiv oblasts. They talked about how they are working during the war, what was achieved and what challenges remain. The enterprise KramTechTsentr from Kramatorsk is now working in Dnipro, the company AGK Ukraina from Rubizhne resumed its work in Lviv Oblast, and the plant Kontakt from Druzhkivka moved to Vinnytsia. Businesses were looking everywhere for safe conditions to continue work, and then began to join grant programs, to purchase equipment, and strengthen their capacities. For most manufacturers, the remaining problems still include finding personnel, the reservation of employees liable for military service, the inability to go abroad to find partners, and the complicated procedures for submitting grant applications to various programs.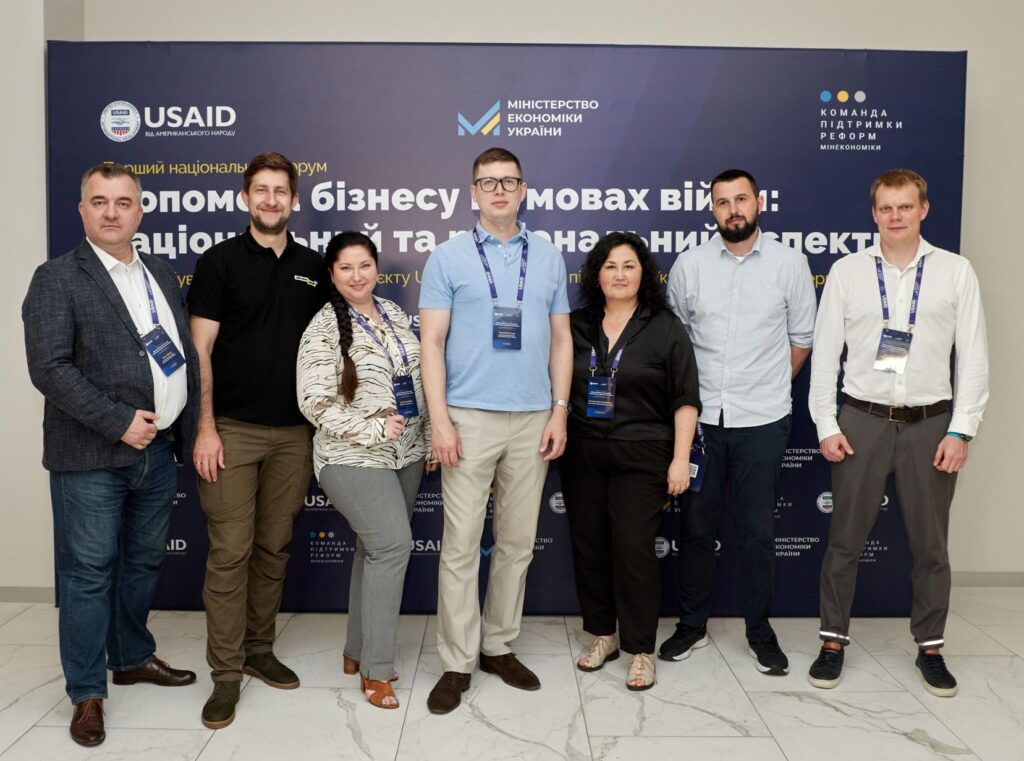 The participants of the second panel discussion talked about state and non-state business support programs: the Erobota grant, public procurement and the participation of small and medium-sized businesses in them, procurement through Prozoro Market, export opportunities, and the need for demining of many territories, and how businesses can join.
"There are 2,500 sappers in Ukraine, and 1,500 of them work at various sites every day. Machines are needed to speed up demining (agricultural land, critical infrastructure). Now there are 15 , which is very few. Kharkiv Oblast is critical now, and Kherson Oblast is next. The work of sappers is difficult, there are not enough of them, anyone can become one. That is, these are business opportunities. Government and donor money will be allocated for this. According to experts, demining Ukraine requires USD 37.5 billion and a lot of time. This requires a lot of equipment. All this will have to be bought, now we are looking for equipment all over the world," said Ihor Bezkaravainyi, a specialist on coordinating humanitarian demining in the UN Development Program.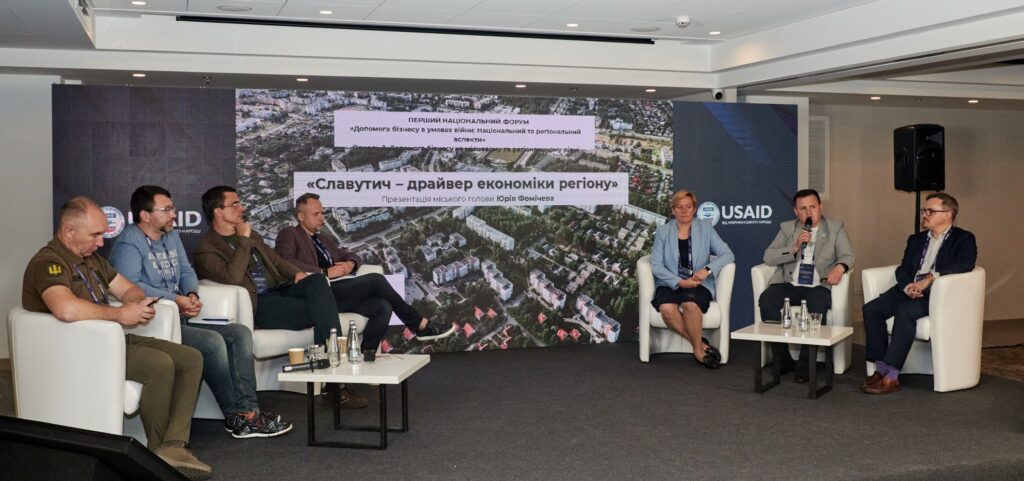 The speakers of the third panel discussion talked about what local and regional authorities should do to support businesses. Representatives of local authorities of communities from Kyiv and Sumy oblasts shared their experience of recovery after liberation. They discussed what local and regional authorities can do to support businesses, how to find a consensus, and which tools of participation of authorities and business support institutions are already used in communities.
Trostianets Mayor Yurii Bova shared his recipe for community recovery, noting that it is close cooperation between business, government, and the community.
"There was an outflow of people and businesses from the occupied territories. After the liberation, we faced a huge threat: how to return the businesses. What about looted enterprises, looting, how can an investor come here? The first thing the government should do is to provide businesses with security guarantees: to protect the territory, to show foreigners that the city is safe, that people are returning, public transport is running, and schools are opening. After that, businesses will return. Not a single business left the city that was under occupation, where the losses reach USD 100 million, and everyone returned. The entire infrastructure is working, the entire team of the city government is open to communication with businesses. So, the investment climate is created by the local government. In Europe, investors ask the government to show them a school and a hospital, and then make a decision on investment, " Mayor Bova said.
The participants of the fourth panel talked about the grants that are available for businesses today, the specifics of submitting grant applications and fulfilling the conditions of various grant providers. The USAID ERA team created a grant Ecalendar for businesses, which is a compilation of all current grants, that is constantly updated and is convenient to use from ones phone.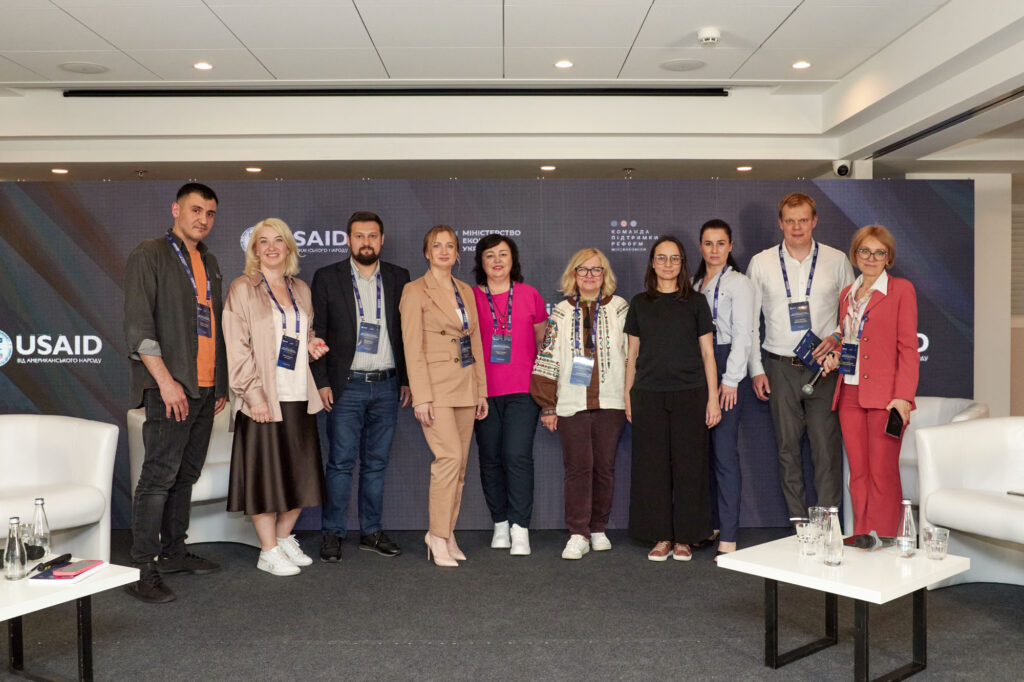 Yuliia Zhovtiak, Director of the State Employment Service, spoke about the grants that small businesses can receive. This amount is up to 250,000 hryvnias, provided that two jobs are created. The main condition for returning the grant is payment of taxes for three years. New grants are also available for veterans or their family members.
"The employment service teaches businesses how to prepare high-quality grant applications either free of charge or at a small cost. We consider this business support program to be effective because entrepreneurs have already paid more than 70 million hryvnias in taxes for the period of its validity from July 2022," said Ms. Zhovtiak.
Kateryna Rigg, Head of the Small and Medium-sized Business Development Department of EBRD in Ukraine, presented businesses are being supported today.
"The EBRD, with the financial support of donors, flexibly responded to business needs during the full-scale war – introduced new products and adapted existing programs. There are grants for consulting projects where the business engages local consultants. Starting from July 2022, the compensation has been increased from 50% to 85%. These can be strategies, marketing, information technology and other areas. We also support business participation in international exhibitions, and  more than 40 small enterprises have created new sales channels and partnerships during the year since the beginning of the war. There are grants for relocation from war-torn areas within Ukraine after February 24 as companies are looking for safe conditions to continue work. We have received more than 300 applicationsand are evaluating them to support the relocation. We are introducing professional development training, in particular, training in corporate management for women, because there are many men at the front, and they are taught cyber security, migration from Russian software. I advise businesses to make sure to use these various support programs."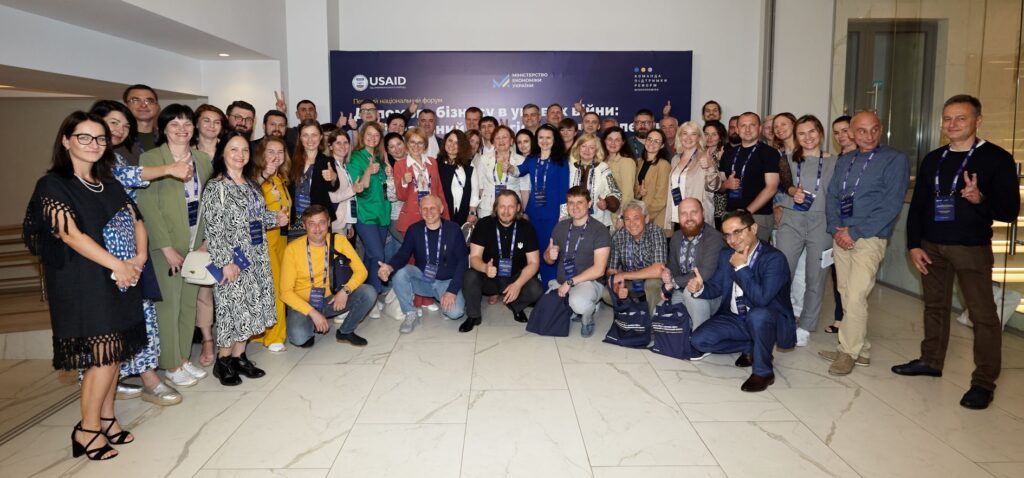 During the networking sessions at the event, the businesses established contacts and the organizers were asked to continue such dialogue among businesses and those institutions and organizations that support its work. It was this platform that helped some of the participants get grants, loans, relocation payments, make reservations for employees, learn about how to get involved in various opportunities and continue to work during the war.