The Tkachuk family – Oleksandr and Yana – founded the Vyshyvanochka brand in 2022. Their dream that every Ukrainian should have an embroidered shirt in his or her wardrobe is coming to fruition, thanks to the assistance of the USAID Economic Resilience Activity (ERA). Oleksandr Tkachuk, a former counterintelligence agent and cyber security specialist, is now an entrepreneur, who together with his wife Yana, decided to do something that would support Ukrainian culture during the war. They opened a shop for tailoring clothes in ethnic style in Ivano-Frankivsk, despite having no prior experience in sewing. Now, people buy their embroidered shirts and dresses for themselves and as gifts, with many buying them for friends and relatives abroad.
At first, they created an online store and sold embroidered shirts from other manufacturers, but every time they faced the challenge of having to look for the right sizes, colors, and designs. So, they gradually came to the idea that they should make the shirts themselves. But for this, they needed sewing equipment, so the family started looking for financing. However, thebanks do not give loans for starting a business, and grants are often given for development.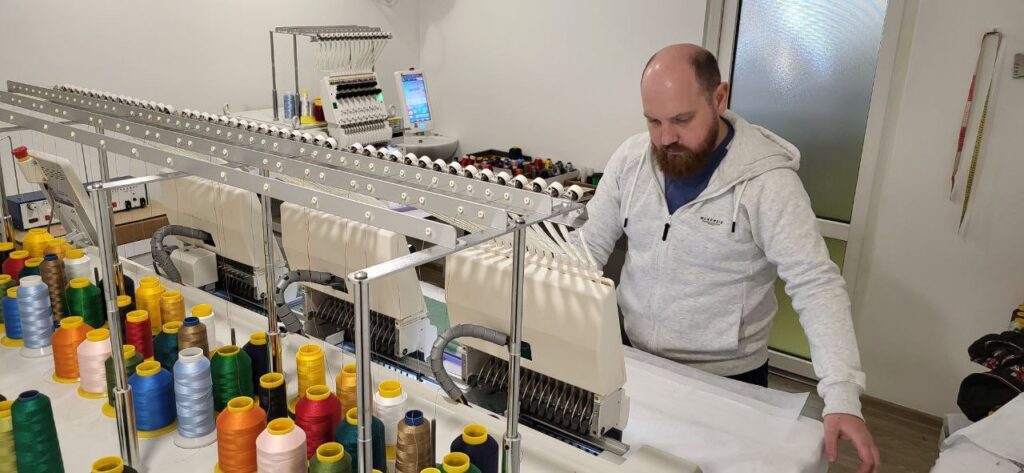 The Ukrainian Veterans' Fund of the Ministry of Veterans' Affairs helped the couple to purchase the equipment. The Tkachuk family prepared a business plan, conducted market research, and submitted an application. They received two embroidery machines within the Ministry's  grant. With their own funds, they bought additional equipment including five industrial and three household sewing machines, and several overlock machines. Currently, there are seven workers employed in their workshop, who include recent graduates of the local vocational college, as well as displaced persons. Hiring people was not a requirement of the grant, but the number of their orders grew and the couple used this opportunity to create jobs for others.
Yana Tkachuk, who previously worked as a designer, develops the design for the embroidered shirts.
"The personnel problem is one of the biggest I hear about from businesses. But in our case, we decided not to look for people with experience, but to teach young people, because they need to get that experience somewhere. We invite people to come to our workshop for practice, and then those who want to can stay to work," says Oleksandr Tkachuk.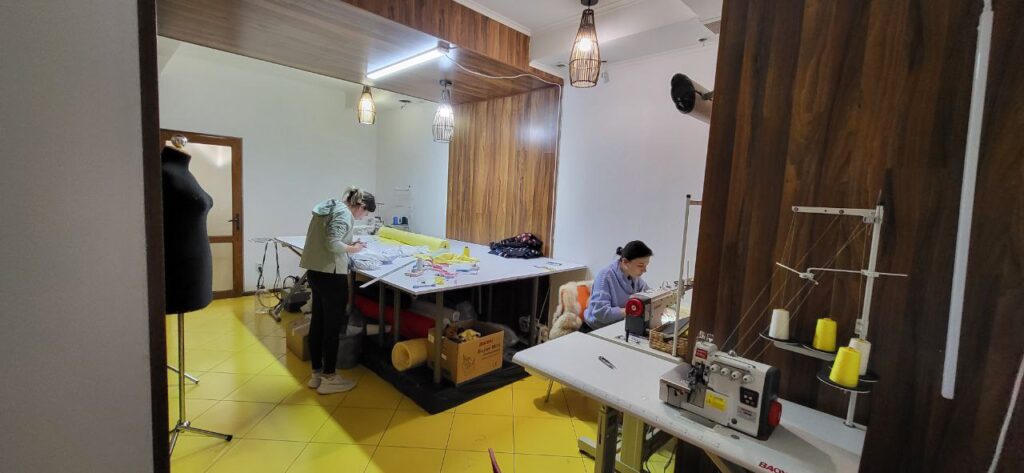 For more than a year, Oleksandr Tkachuk has been participating in dialogue platforms for businesses, which isheld by USAID ERA, in collaboration with the Reform Support Team of the Ministry of Economy of Ukraine (MEU). On June 8, he took part in the ERA and MEU organized First National Forum on "Assisting Businesses in War Conditions: National and Regional Aspects" in Lviv, which gathered about 200 offline and online participants.
"During the forum, I spoke with many participants and speakers, and met colleagues who have been working in the market for a long time. Such platforms are very importantfor communication regarding  both related and niche businesses, which can be a prerequisite for business clustering based on the European model. I also visited almost all the online forums that were held throughout the year. I haven't applied for the grants that are being given out now (either for processing or for expansion of business), but I know where the business is going from being involved in these kinds of events. Thanks to the events, I know about (ERA's)  eCalendar, current grants, opportunities for business, and initiatives of local authorities to stimulate and recover businesses," says Oleksandr.
In February, USAID ERA created a video about Vyshyvanochka to help them attract new customers and tell veterans about the opportunities to receive a grant from the Ukrainian Veterans Fund. This video, which was posted on social media networks was watched by over 200,000 people, and  received over 750 shares.
"After this video, other media started contacting us, talking about us. Thanks to such media support, people who wanted to buy an embroidered shirt found out about us and eventually ordered it. In general, I advise everyone who starts a business to first research the market, and only then to create a business. Because the product must solve the client's problems, be necessary and competitive. Accordingly, the business must be built from the needs of the client, and not from the ability to manufacture and sell something. It was this strategy that helped us gain a foothold in the market, gain loyal customers and actively develop," says Oleksandr.
Oleksandr also participates in the mentorship program for small businesses, which is implemented by the head of the business school "Public School of Business" Ruslan Beltiukov with the assistance of USAID ERA. Under this program, an experienced consultant is helping the budding entrepreneurs to develop a strategy, and undertake business management, and brand development. The family is grateful for this support, because knowledge is no less important than equipment.
"It is very gratifying that government bodies are helping to develop business: in recent years, the approach of the centers for administrative services, employment centers, and regulatory bodies, which conduct ongoing training, appoint personal consultants, and simplify the issuance of permits and registration actions, has fundamentally changed. Together with grant support, this creates a platform for a dramatic increase in value-added production (even in wartime). And it is the growth of the economy that will create the main barrier that will separate us from the Russians, as is happening with North Korea and South Korea (a tyranny and a prosperous highly developed country)."
While securing all of their livelihoods, Oleksandr and Yana's embroidered shirts are also helping to foster a national identity, during the war. The entrepreneurs' dream that every Ukrainian should have an embroidered shirt and wear it not only on holidays, but also every day, is therefore promoting Ukrainian identity in everyday life.