On May 13, the Network to Protect the Cultural Heritage of Ukraine through a Solidarity Economy organized an event at the Dobropark arboretum in Kyiv Oblast with USAID Economic Resilience Activity (ERA) support. Volunteers, entrepreneurs, and community members gathered to assist in the arboretum in order to support the community of Motyzhyn village, Bucha Raion, in its recovery after its liberation.
The park is located in the village of Motyzhyn, in the Makariv community which suffered directly from the occupation by Russia's forces in 2022. Bucha Raion was under occupation for 34 days, with the frontline passing through it, and the village of Motyzhyn is one of the most affected in the region. Among other things, psychological and other types of assistance are needed here. One of them is garden therapy, which is psychological treatment with plants.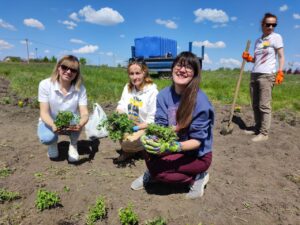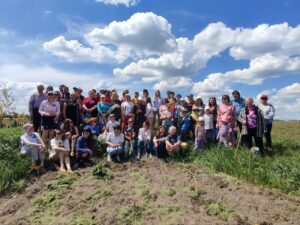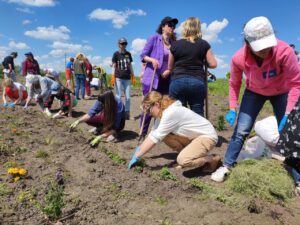 During the event, the participants planted the "Solidarity Ukraine" medicinal flower bed, learned about medicinal and edible plants, their healing properties, and how to grow and care for them. Maria Hazniuk, a researcher and curator of the collection of spicy and flavorful plants at the Department of Cultivated Flora of the Hryshko National Botanical Garden, shared her experience working with plants such as these. The volunteers also purchased plants such as sage, Transcarpathian mint, lemon balm, and others, for the solidarity flower bed from the Botanical Garden. Families from Motyzhyn and students from Motyzhyn Lyceum took part in the planting. They also received pots with these plants as a gift from the organizers of the campaign, which they will take care of at home. Organizers also bought and donated gardening equipment, such as shovels and rakes, for use at the lyceum.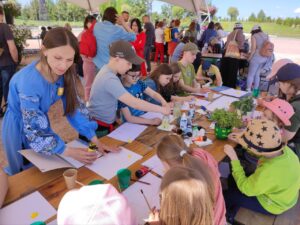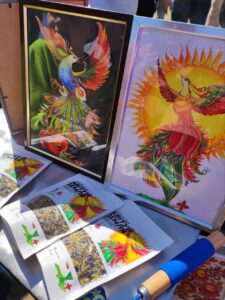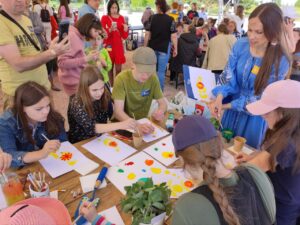 Artist Natalia Pidhirna-Babyn held a masterclass on Petrykivka painting for children. The participants also learned about permaculture gardens and warm beds, how to set them up at home, and what benefits they provide. Lunch, which was provided by chef Vladyslav Hanzha, from the "Za Dvoma Zaitsiamy" restaurant, included dishes made with edible plants and flowers such as wormwood, lemon balm, sorrel, and spinach. Herbalist Vadym Zhyhun also presented the flower tea "Bloom, Earth!" created especially for the Dobropark arboretum. During the solidarity action, the entrepreneur agreed to continue his cooperation with the arboretum and will sell his tea there from now on.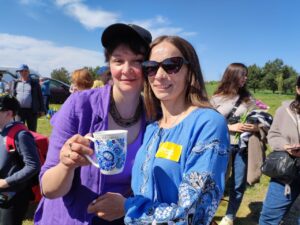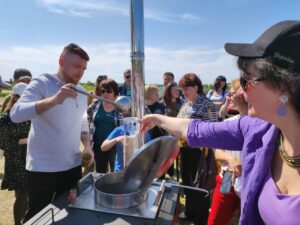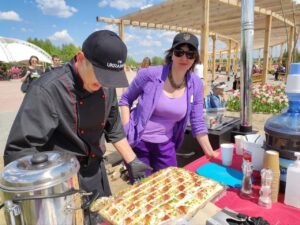 Dobropark Director Victoriia Ryzhkova offered her views about the event,
"Such actions are needed in our park today. The flower bed with medicinal plants planted by volunteers will please visitors, our employees will take care of it, and we will install drip irrigation. We have a large territory that needs to be maintained, so we always need help from volunteers. Before the war, we employed 86 people, when Kyiv Oblast was liberated last year, we had 20 employees, and now we have 35. But by drawing attention to our park, we will develop, and solidarity actions will help us do that."
Valeriia Bondarenko, the head and coordinator of the solidarity action
"Discover and Recover. Yourself. Your home. Ukraine! and an ERA consultant said: "Dobropark is a member of our network, so we decided to support them. I am glad that people join such solidarity actions. We all need support now, including psychological support. And staying among the beauty of tulips, working with the ground, planting and smelling them always gives you strength. It is important that each solidarity event we organize provides practical help and a long-term result. Therefore, based on the results of the campaign, we announced a "Week of Solidarity Actions" that will last from May 15 to 20. During the week, its participants will implement or start implementing their proposals, promises, and projects that were announced during the campaign. The principle is: five days – five cool cases from participants with different forms of solidarity."

The participants also took a walk in the park, where 3 million tulips are blooming this year.
Background: The Network to Protect the Cultural Heritage of Ukraine through a Solidarity Economy was established with ERA assistance in November 2022 and is a community of Ukrainian and international partners –  representatives of local authorities, small and medium-sized businesses, the tourism sector, volunteer and charitable organizations, cultural and educational institutions, journalists, scientists, and artists, etc. who bring together their resource potential to implement solidarity projects and programs aimed at restoring liberated and other territories of Ukraine. Kyiv Oblast became the pilot region for its creation. The network currently unites more than 40 members, who are representatives of business and public organizations.