The requests submitted to the Volyn Oblast Phyto Laboratory (VOPL), a state-owned institution, for phytosanitary services have changed. The USAID Economic Resilience Activity (ERA) is helping this, and other state phytosanitary laboratories fulfill these new requests in a timely manner through providing them with the necessary supplies. 
 Before Russia's full-scale invasion of Ukraine, the main crop samples examined was sawn timber (wood), at more than 70%, with grain accounting for just 5% of crop samples. Now, sawn timber accounts for 30% of tested samples, while the number of grain samples has increased to almost 70%. The laboratory receives an average of 120 samples per day.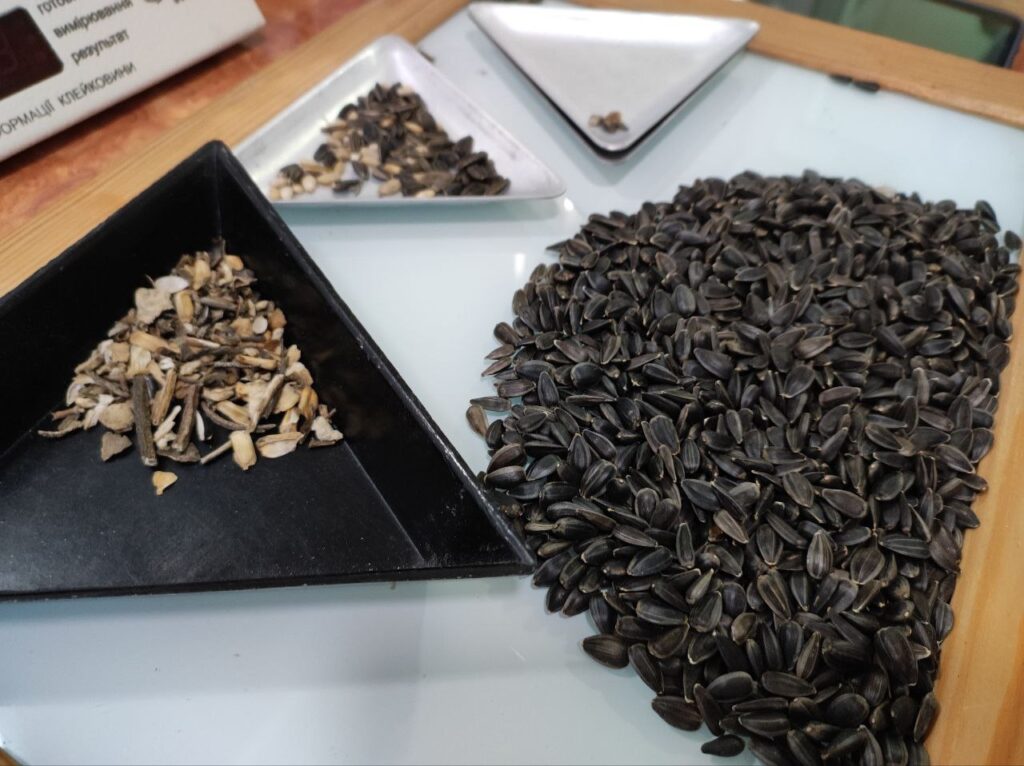 This change in therequests for product tests was due to the change in logistics routes for grain exports and Russia's blockade of the Black Sea ports. Previously, laboratories in Odesa and Mykolaiv oblasts were responsible for testing grain for export. Due to the shelling of the port infrastructure, agricultural exporters began looking for other logistics routes. Since grain was exported through the western border regions, they started to turn to laboratories in these regions for phytosanitary testing of samples. Volyn is one of them. 
"The number of samples to be tested, mainly of grain, has increased significantly at the phytosanitary analysis department of our laboratory. Ports are now unstable, and so most exporters transport grain by highways and railways through the western borders of Ukraine. Currently, the phytosanitary analysis department of VOPL receives up to 70% of all requests for grain testing. Most often, these are corn, wheat, soybeans, and rapeseed. In practice, the process looks like this: a farmer applies to the State Service of Ukraine for Food Safety and Consumer Protection, or DPSS, with a request to conduct an analysis. A state phytosanitary inspector takes samples, packs them into a safe package, attaches the accompanying documents, and this sample is then delivered to the laboratory by a representative of the cargo-owning company or a state phytosanitary inspector. The cost of examination of one sample of grain, for example, is 370 UAH, if it is wheat or corn and 240 UAH, if it is soybeans or rapeseed. The phytosanitary analysis department conducts an examination for pests, diseases, and weeds in the grain. Based on the testing results, the state phytosanitary inspector issues a conclusion, and then the customer receives a certificate from DPSS", says Tetiana Suleva, the Head of the Department of Phytosanitary Analysis of Volyn Oblast Phyto Laboratory.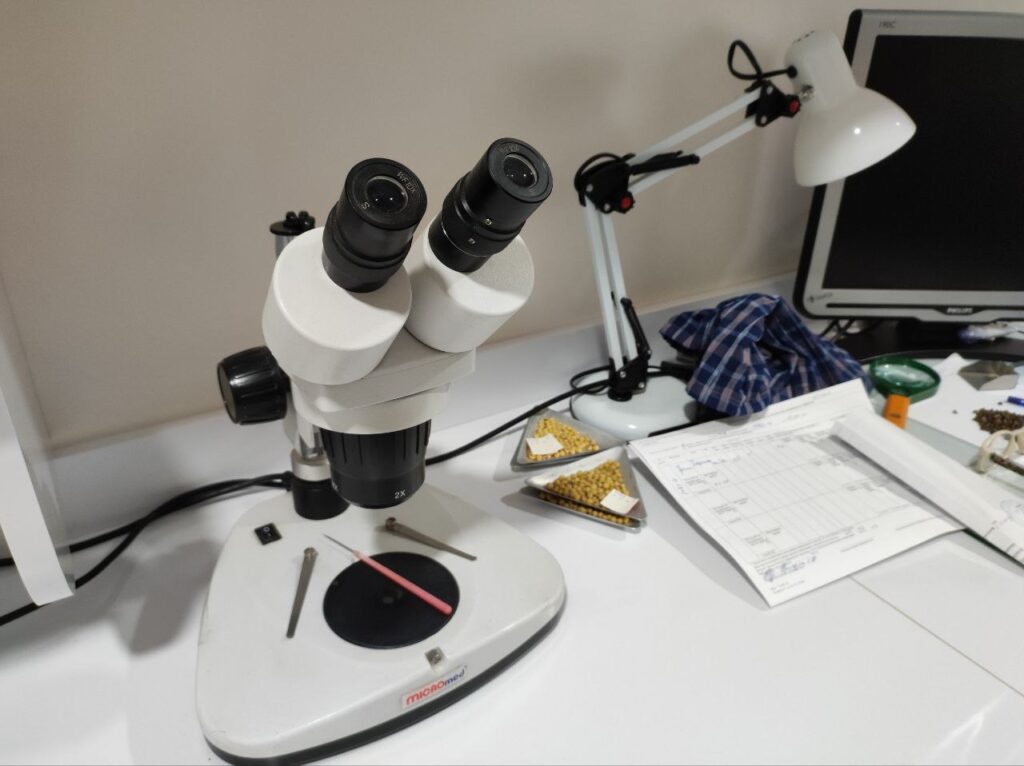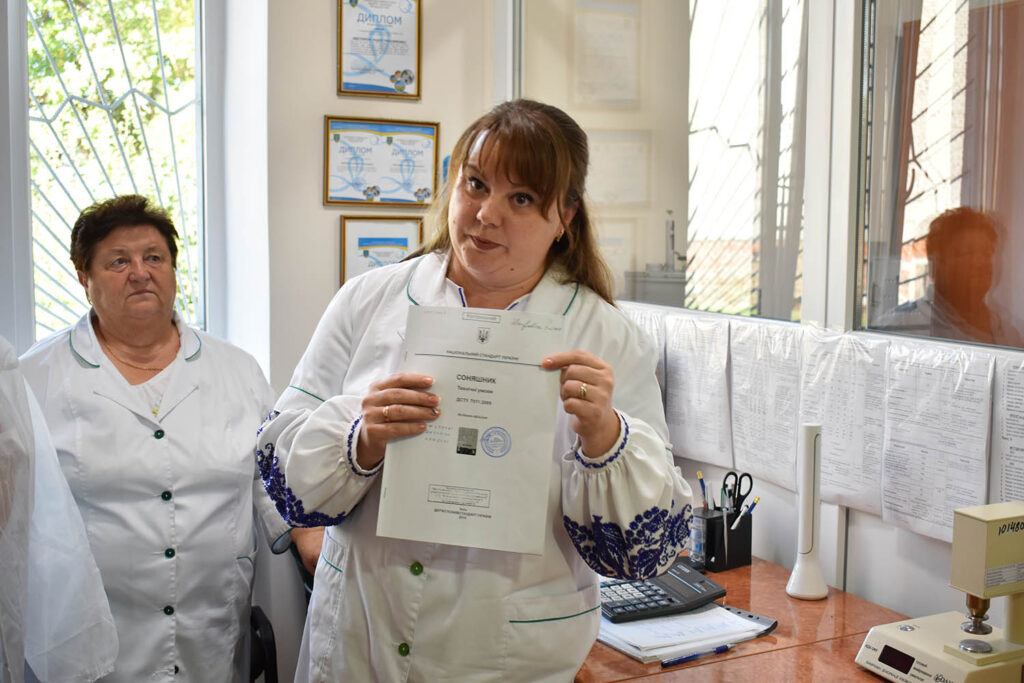 Depending on the contamination of the sample, it takes from several hours to up-to a day to analyze it. If a virological or bacteriological examination is required, it is done using an enzyme-linked immunosorbent assay or PCR testing, which takes a day. To complete all the tests in time, the laboratory employs 11 specialists. They receive 50 to 200 samples for analysis per day. These tests require consumables, such as Petri cups, test tubes, dispensers, scissors, gloves, gowns, and other supplies. Which is why ERA provided these supplies to VOPL and eight other phytosanitary laboratories in Ukraine. 
"We need a lot of consumables all the time. Most of the consumables are disposable. In order to avoid contamination during testing, we must use only new materials that are of high quality.  As such, the USAID support saves us money. Previously, we used to spend a lot of money on consumables", says Yevheniya Lykhach, the Director of Volyn Oblast Phyto Laboratory. 
Only state laboratories can confirm the test results and issue the certificates for grain export. That's why staff training, equipment and consumables are very important. In October, the VOPL, with the assistance of USAID ERA, held a week-long training for phytosanitary laboratory staff from 13 regions of Ukraine. Participants learned how to perform modern tests using real-time PCR testing, how to properly maintain documentation, and how to interpret research results.  
"Every country which imports Ukrainian grain has its own import regulations. Most EU and Asian countries request PCR testing from exporters. PCR testing is one of the most accurate and up-to-date methods of analysis. Through this analysis document,  permission is hereby given to export grain. So, all of laboratory workers must know how to perform such tests. This is why staff training is very important", says Vladyslav Sedyk, USAID ERA Consultant. 
As a reminder, assistance to agricultural producers, infrastructure companies, and state phytosanitary laboratories is part of the Agriculture Resilience Initiative implemented by USAID in Ukraine. It aims to help Ukraine increase its capacity to produce, store, transport, and export grain.