A team from Ukraine took first place at Robotex International, one of the world's largest international robotics festivals held on November 25–26 in Tallinn.  A group of young Ukrainians became the best robotics team in Europe, among more than 30 countries participating in the competition.
The Ukrainian national team Op[ti]mum & Roboclub Vugledar united participants from Vuhledar (Donetsk Oblast) and Kamianka-Dniprovska (Zaporizhzhia Oblast). The children were trained by Hanna Telychko, an IDP entrepreneur from Donetsk Oblast.
At the competition in Tallinn, contestants had to design and program an autonomous robot weighing up to 3 kg, whose task was to find and push the opponent's robot outside a playing field with a diameter of 154 cm. The Ukrainian team mastered this task quickly, winning an absolute victory among 47 teams to take first place.
"During the war, such victories are very inspiring for Ukrainian schoolchildren who are hiding in bomb shelters and deprived of many basic things such as electricity, heat, Internet, and communication with other teenagers. Therefore, our displaced robotics team will continue to master the technologies of the future in order to participate in the recovery of Ukraine in the nearest future," said Telychko.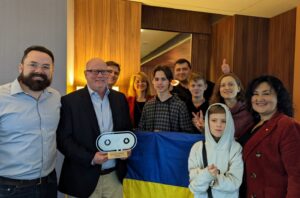 Before Russia's full-scale invasion, Hanna and her husband Serhii developed a network of robotics centers in Donetsk Oblast, which were attended by more than 200 children. All the centers, created with USAID Economic Resilience Activity (ERA) support, were destroyed by Russian shelling.
Telychko told the President of Estonia about her experience. Such competitions are another chance to talk about Ukraine, where children want to learn, develop and create technologies of the future even during wartime, she says.
On November 17–19, children from Ukraine took part in the World Robot Olympiad International Final 2022 in Dortmund, Germany. ERA covered travel costs, participation in the competition and accommodation for children and trainers.
Two robotics teams brought by the Telychko family successfully represented Ukraine among 73 countries. Over three days, the participants programmed robots to perform tasks on a special field. They also communicated with teams from around the world, telling them about the war in Ukraine, the destroyed educational centers, and the resilience of Ukraine and children who, despite the difficulties, continue to study, participate in championships and prepare to build an innovative future.
Telychko is convinced that even during the war children need to develop, so she is looking for different educational opportunities by participating in various grant programs. In the summer, the family held free robotics workshops for more than 1,500 children in the western regions of Ukraine.