Rekava startup, making a unique biodegradable product from recycled coffee grounds, was founded by two like-minded people in Sumy two years ago. Yurii Tustanovskyi and Dmytro Bidiuk produce coffee cups, candles and pots. Their mission sounds global – using daily habits to save the planet from single-use plastic and other non-degradable waste in landfills. But it is by small daily steps that they make it a reality.
With their savings, the innovators purchased a press and equipment for drying and cleaning coffee grounds, and started to create.
"Dmytro and I love coffee, and we know what amounts of coffee grounds are left in coffee shops every day. A huge number of disposable dishes are thrown away as well. Many coffee shops use paper utensils, but that doesn't mean they are environmentally friendly. We created our eco-product (coffee cups) from a material that is not harmful but friendly to the environment. Coffee grounds are perfect for this," says Tustanovskyi.
Helped by Bidyuk's technical education and Tustanovskyi's economic background, the entrepreneurs began creating the first product samples in their small laboratory. They tested, developed specifications, worked on the design, and had already found their first customers. But then Russia's full-scale war against Ukraine began.
In April, thanks to a state business relocation program, the entrepreneurs moved their equipment to Lviv where they developed Rekava Candles – scented candles in biodegradable containers.
"We wanted to create a product that would give people a feeling of coziness and be associated with home. We decided to produce decorative candles with aromas of cities and regions of Ukraine. To make them eco-friendly, we decided to use soy wax, to which we add different scents. The containers for these candles are made from coffee grounds," says Tustanovskyi about the new product, which was born during wartime.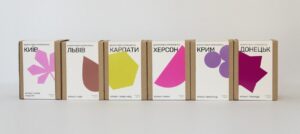 Rekava has created a series of six scented candles with different city scents. Kyiv is the smell of lilacs and chestnuts; Donetsk is scented with rose; Lviv smells of coffee; Crimea of grapes; Kherson of watermelon, and the Carpathians of herbs and honey.
After posting information about the product on social networks the manufacturers received many messages and ideas, including to expand the range of aromas to other cities of Ukraine. Now they are working on creating five new scented candles in their craft laboratory. Recently they sent a test batch to four countries of the European Union. The entrepreneurs hope that Europeans will like their unique eco-candles with the aromas of Ukraine, and that they will be able to enter the EU market.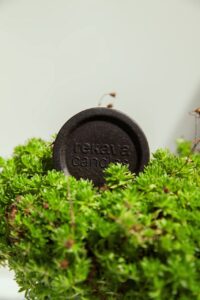 The Rekava team realized that they need industrial equipment to manufacture products in large volumes, in particular, coffee cups and flowerpots made of coffee grounds. They applied for a consulting support program for relocated small and medium-sized businesses run by NGO GoLocal, which is supported by USAID Economic Resilience Activity (ERA). The program consultants advised them how to reduce costs, prepare a high-quality business plan and improve business processes.
ERA consultants help to find contractors for the preparation of raw materials, and to enter new sales markets, in particular foreign markets of the EU, as well as with business planning and search for grant opportunities for the purchase of new equipment. The consultants reviewed the sequence of production stages in Rekava's workshop and helped increase efficiency and productivity. For example, they advised the team not to accumulate products in the warehouse, to avoid unnecessary costs, and thus make tangible savings for the microbusiness.
"We are constantly working to attract financing. We participate in various acceleration programs, as well as competitions to start mass production as soon as possible, because serial production is needed for disposable tableware (coffee cups). Now we supply cups to several coffee shops in Lviv, but the volumes are very small. ERA consultants helped us prepare a presentation for pitching and developed a business model of the enterprise using the Business Model Canvas methodology. This has already helped us: recently we received a UAH 250,000 grant from the state for the purchase of equipment," says Tustanovskyi.