Why does Workforce Development (WFD) matter in Eastern Ukraine
Workforce challenges faced in eastern Ukraine are cross-cutting and undermine system-wide opportunities and challenges for employees, employers, schools, cities, governments, and families.
The key constraints the Workforce Development team continues to address are:
Demographic decline – Changing demographics and worker migration mean smaller student populations at educational institutions threatening their economic viability, and fewer appropriately skilled works to fill jobs in eastern Ukraine.
Declining or absent innovation – structural and systemic challenges for educational institutions have led to a vacuum without innovation, limiting ability of traditional partner businesses to grow, thrive, or compete.
Disconnect between education and industry – without a feedback mechanism for universities to change and adapt their content to the needs of the private sector, many firms will remain unable to find an appropriately skilled workforce and will struggle to compete, increasing their likelihood of shutdown or relocation.
In every case USAID Economic Resilience Activity (ERA) WFD team's interventions seek to maximize impact across  ERA's sectors and institution partners by effecting systemic wide change that is sustainable and not dependent on continuous funding or interventions by donors.
WFD's Core Strategic Objectives
In order to create systematic and sustainable solutions, ERA's WFD team has identified the three top strategic objectives that will guide individual activities toward the goal of stimulating the economy to create jobs that are attractive to youth and which contribute the economic rejuvenation of their communities:
Align education, training, and skills development with the demands of the labor market
Attract and retain students and workers to the region by making universities and other learning institutions innovative and competitive, and employers appealing
Strengthen the innovation ecosystem and catalyze university-industry collaboration on applied research and development projects in order to increase firm level innovation, growth and job creation by
PARTNERS FOR IMPLEMENTING WFD APPROACHES
ERA PARTNER UNIVERSITIES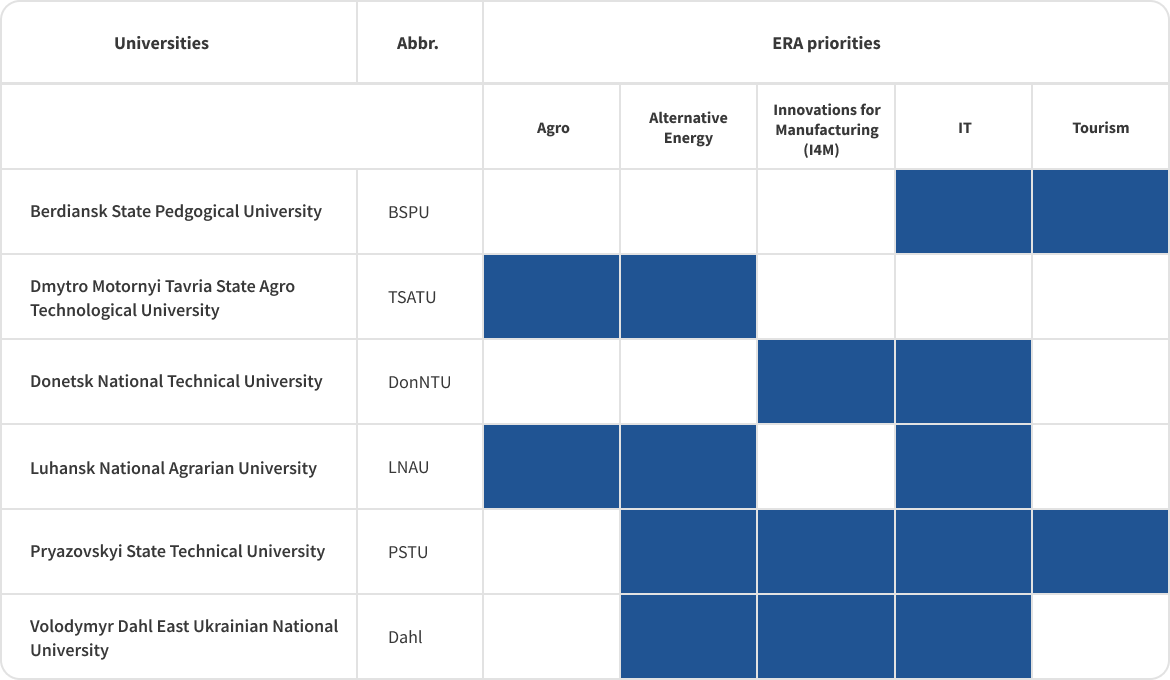 WFD Activities for EDUCATIONAL INSTITUTIONS
Enabling universities to understand markets
Facilitating innovations development at Universities
Facilitating business-university cooperation by means of dual education approach
Building the network of Case-Clubs in the region
Distance Learning support under COVID-19 restrictions
Updating technical infrastructure and curriculum
Forming skills for Innovative Entrepreneurship
CROSS-CUTTING INTERVENTIONS
Employee retention
Youth engagement
MAP OF ERA WFD EDUCATIONAL AND CROSS-CUTTING INTERVENTIONS