IT company QuartSoft closed its office in Kramatorsk in March 2022 and decided to look for a safer region to work in.
While some employees went abroad, a third agreed to move to Ivano-Frankivsk, where the firm had had a small office since 2014. This has grown significantly to more than 50 people, some working from home, others in the office.
"We told the workers that it was up to them to decide whether or not to leave Kramatorsk. Some people agreed to go to Ivano-Frankivsk, and we helped them with accommodation and apartment rent," says HR manager Maryna Borysenko.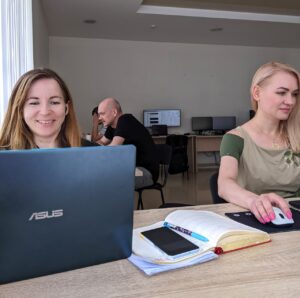 The company's three departments – game, web, and agro development – kept all their contacts and started working again in just two weeks. The loss of most of its customers in the agricultural sector became a challenge the company had to address.
"Our company is developing its own IT product for farmers, called Soft.Farm. This is a full system of IT solutions for precision farming. With the beginning of the war, we lost a significant number of clients who worked with us in this direction. Some of them could not continue working due to hostilities, others are under occupation and have lost markets, and therefore the opportunity to order our services. Although some clients continue cooperating with us, we are actively looking for new partners," says Borysenko.
The company lost most of its clients in Donetsk, Luhansk, Kharkiv, Kherson and Mykolaiv oblasts.
However, the IT company is currently looking for other opportunities and is even considering bringing its product to farmers in Europe and Africa. By the end of May, it had already attracted new customers and exceeded its sales plan.
QuartSoft also supports children who are displaced from their cities, schools and kindergartens and have lost their friends. The company organizes fun days with entertainers, competitions and prizes: the children paint T-shirts, hunt for treasure, and create paintings from colored sand.
"Many people and businesses are undergoing a big transformation right now. But I believe that we will successfully cope with all the challenges and come out of it even stronger. This will be an impetus for the further life and development of both our company and of Ukraine," says Borysenko.
QuartSoft also dreams of holding a large IT conference in Donetsk Oblast, which will bring together colleagues, IT specialists and new people interested in the development of the IT industry. They believe that after Ukraine's victory they will certainly make this idea come true.