The "Digital Wear" hackathon held in Rivne at the Ostroh Academy on May 4 united 50 students from educational institutions of Rivne, Zhytomyr, and Lutsk, as well as mentors, the jury drawn from IT companies and from the Association of Light Industry, and representatives of the Rivne Oblast State Administration. The event was held with the assistance of the USAID Economic Resilience Activity (ERA) and Rivne IT Cluster.
Ten teams presented their digital clothing concepts, which included interesting ideas for smart fitting rooms, fabulous virtual images, stylists using artificial intelligence, and others.
"The event is very unusual, as the idea of combining the IT and light industry is a challenge. I'm glad that all the teams were creative and came up with original ideas, so it was quite difficult for us to choose our favorites. I am sure that this event has opened the door to new projects for us, as we were able to meet specialists from different industries and establish partnerships and cooperation," said hackathon judge Mykhailo Boiko from FuGas.
The judges rated the participants' works according to the following criteria: relevance to the topic, innovation, ability to implement the idea, presentation, and clothes' functionality.
The winners of the hackathon were "Itivtsi" from the Rivne Regional Scientific Lyceum, "Vag Power" and "Crazy Snails" from the National University of Water and Environmental Engineering, students of the Noosphere Engineering School, and "Bee5" from Lesia Ukrainka Volyn National University.
"Our team is extremely pleased to participate in the Digital Wear hackathon. We had an opportunity to meet like-minded people who want to develop modern digital fashion design together," says Maria Nazarchuk, a member of the winning Bee5 team.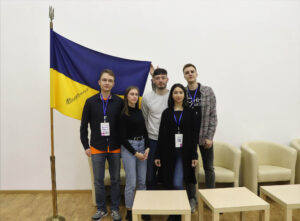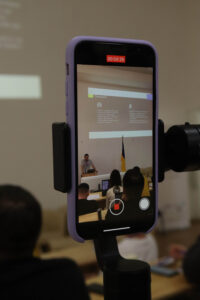 Mentors and the competent jury decided to combine the winning teams into two projects. The first project is about a smart solution that helps to choose a wardrobe based on the user's preferences, size parameters, weather forecasts, and other factors. The second project is a clothing collection with augmented virtual reality, dedicated to historical monuments that were destroyed as a result of the war with Russia.
"The greatest value of such events is the creation of new collaborations at the intersection of industries. During the event, we were able to bring together IT professionals, light industry workers, students, schoolchildren, teachers, and scientists to find new, unexpected smart solutions. Teams have already started to unite and work together, and representatives of different companies have seen opportunities for cooperation and are planning joint projects. So, I think our main goal has been achieved and the event will have a positive impact on the development of industries and the region," says Inna Ternavska, Rivne IT Cluster's PR manager.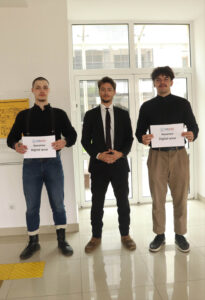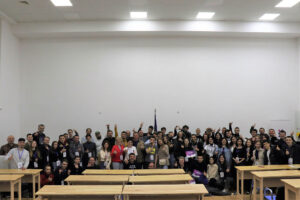 The two teams will finalize their projects with mentors and present their concepts in 3 months.
Such hackathons present an opportunity for the interaction of education, government, IT, and the light industry, and the creation of an innovative product at the intersection of various industries.