Apimondia – the biggest international apicultural congress in the world – was held in Istanbul on August 24–28. The Ukrainian delegation included beekeepers from different regions of Ukraine, honey exporters, scientists, and producers of beehives and honey-based beverages.
Economic Resilience Activity (ERA), in cooperation with the Union of Beekeepers of Ukraine and the Ministry of Agrarian Policy and Food of Ukraine, supported the participation of 33 Ukrainian honey producers in the 47th congress, Apimondia-2022.
"After such events in previous years, we got new contracts, connections, and experience. After participation in Apimondia in 2020, export sales of honey increased by 20 percent. Ukraine is interesting to the world, in particular, as a producer and exporter of honey," said Andrii Bazhyn, Vice-President of the Union of Beekeepers of Ukraine.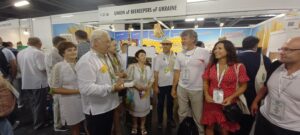 On August 24 – Ukraine's Independence Day and the first day of the event – the Ukrainian delegation began by singing the national anthem, and presented bread with words of gratitude to representatives of the countries providing military aid to Ukraine.
During the congress, a video featuring Ukrainian beekeepers pumping honey during the war, as well as apiaries destroyed by Russian shelling, was shown. At the exhibition stand, visitors could taste products from Ukraine, and see beehives and various equipment beekeepers use today, as well as engage in business negotiations.
More younger people are becoming beekeepers, and accordingly, more innovations have been brought to the field.
"We need technologies in apiaries which Ukrainian beekeepers lack. Here you can borrow experience from France, Germany, Great Britain, and the USA. Product quality control is through laboratory research. Britain, Germany, and the USA are leaders in this field," said Volodymyr Postoenko, Director of the Prokopovych Institute of Beekeeping National Research Center.
Roman Voitkiv, director of Ukrainski Medovyky LLC, participated in Apimondia for the second time. This year, he submitted 10 different beverages of his own
production to the competition. This way, he promoted and raised awareness of his own brand. Beverages were also presented at the Ukrainian stand.