On May 22, the Ukrainian grain exporter Grain Alliance received loading equipment – three (3) telescopic loaders, and two (2) tractors – from the USAID Economic Resilience Activity (USAID ERA) within the framework of the USAID Agriculture Resilience Initiative – Ukraine (AGRI-Ukraine). This equipment will help speed up the export of Ukrainian grain.
"New realities in logistics require agricultural producers to find new ways to ship grain. One of these solutions is the transportation of grain in big-bags, the use of which is rational when involving powerful machinery. According to our calculations, due to the capabilities of the new equipment, we will be able to increase the volume of grain transportation at our elevator units by 70,000 tons per season. I think that the shipment capacity of just our Berezan (grain) elevator will double," comments Viktor Bezsmertnyi, general director of Baryshiv grain company, Grain Alliance.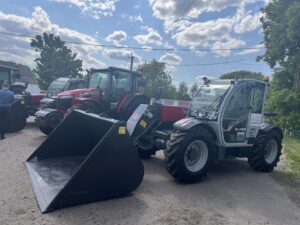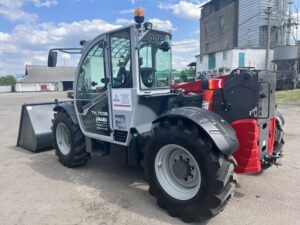 Grain Alliance has 20 years of experience in impactful agriculture. It is one of the largest exporters of grain, and therefore plays an important part in shaping the role of Ukraine as one of the world's leading food exporters. Currently, the company cultivates about 60,000 hectares and has six grain warehouses where it can dry and store more than 300,000 tons of grain. In May 2022, Grain Alliance acquired a grain logistics hub in the city of Čierna nad Tisou in Slovakia. This allowed Ukrainian grain producers to transport grain by rail without interruption.
In March 2023, Grain Alliance, and USAID announced a new partnership to address logistical challenges with grain exports caused by Russia's full-scale invasion. The total amount of investments is several million US dollars, which will be directed to the development of warehouses for grain storage and the expansion of the agricultural infrastructure of Ukraine.
Over the next few months, Grain Alliance will also receive from USAID ERA other equipment purchased under AGRI-Ukraine, including temporary storage, grain bunkers, large bags and equipment for their filling.
Bill Mays, ERA AGRI Director, noted:
"The latest grain handling equipment will allow Grain Alliance to quickly expand its systems and the ability to move grain throughout Ukraine, as well as export grain for many years."
As part of AGRI-Ukraine, USAID committed USD 100 million to increase Ukraine's capacity to produce, store, transport and export grain to ensure global food security in times of war. USAID ERA is one of the implementing partners of AGRI-Ukraine, with a total budget of more than USD 30 million to increase the potential and capabilities of the Ukrainian infrastructure for the export of agricultural goods.